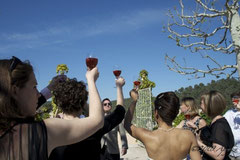 "Neither do men pour new wine into old wineskins.  If they do, the skins will burst, the wine will run out and the wineskins will be ruined.  No, they pour new wine into new wineskins, and both are preserved."  Matt 9:17
We are fermenting, as we mature.  When we are stretched, we are surprised by the crashing waves of grief.  We'll fear the wind as the disciples did in Mark 6:47-52.  We want our illusions back!  We cry "give us the Law — at least then we knew what we were doing wrong!"  We don't want the trauma.  We resent this pain no matter what growth it achieves. 
Through the pressure valve of the journal, a circulating current will show you what you truly desire, and ultimately enable you to make the changes needed to arrive on the other side.  None of this comes without a story, involving actions, reactions and spiritual crisis.  (For example, coming down with the flu just after an intense round of final exams or that exhausting family visit.)  These are significant and histrionic, this desperate cry of the heart asks, "Are you paying attention to me now?"  Kryias are often called 'surrenders;' we're told to just let go.  And they would if they knew to what they were clinging.
Certain people will try to tell you that the spiritual life is grounded in fantasy.  The challenging truth is that the Spirit is rooted in reality, in the particular, defined, accurately observed or clearly envisioned.  This is the truth of our creative nature.  It is created in imitation of God and we battle with the gods that are in us and in others.
Oops, your mask is slipping.  Ironically, an admission of failure usually bonds people.  It's actually the pride of self-protection that divides us.  The humility of "He is God and I'm not," allows us to compassionately admit, "even perfection has its limits, but Your commands have no limit." (Ps 119:96)
As we outgrow the vague grayness about self, values and life choices, we grow in to live in the moment.  It is in the reality of the particular that we encounter new vision.  Until we are able to claim the precious freedom and necessity of solitude, we remain unable to connect authentically.  Julia Cameron reminds us that, "we may be enmeshed, but we are not encountered."
Watch how a plant will stretch itself to reach the sun.  We can do the same.  Creation lies in the moment of encounter:  we meet our truth and we meet ourselves; we meet ourselves and we meet our self-expression.  We become original because we become something specific:  an origin from which creation flows. We stand naked and unashamed.
Roses don't bloom in the shade; and they need to be knee-deep in well-rotted manure to release their most magnificent aromas.
What are you standing in these days?  Is it making you any sweeter?
[
the Source starts here.
]
"The best way out is always through." Robert Frost
by
AprylZA
Poster printing
from zazzle.com