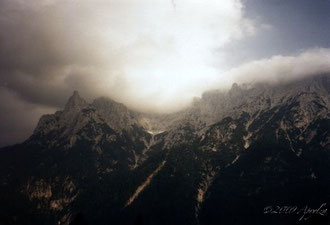 I'd never really thought about it before; that despite the number of times I've moved house in the last 20 years, the journals and photo albums aren't getting any lighter.  They keep accumulating, and I so rarely even look at them.  Well, I have thought about it, and technology is at hand!  It's time to scan and transpose, find treasures and metaphorically burn the toxic waste.
Tim and I moved to Munich in June, 1990, on a 5-year contract with his company.  After three short months of getting settled—read as regular trips to IKEA--we were informed that the sudden downsizing in the office meant that we'd be sent back to Silicon Valley in a few weeks.  And that was the wake-up call we needed to get traveling!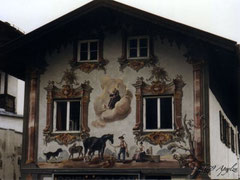 Sadly, my journals were little more than itineraries and travelogs at this point, but I didn't skimp on photos.  Let's see if I can fill in the gaps with a few stories…
17 August, 1991, Mittenwald, Austria
            Autobahn Garmisch STAU in Falching, as usual!  [Translation:  We took the magnificently maintained German highway south toward the Alps, until we hit a traffic jam in Falching.  Evidently, this was the regular location that slowed Tim from his 200 k/h.]
Mittenwald is very crowded on the weekend in August and September.  [These are the best months for breathtaking hikes.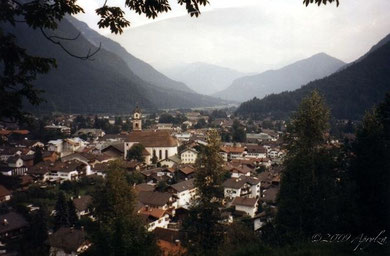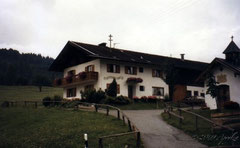 I had discovered the guide, "Urlaub auf dem Bauernhöf," reasonably priced bed & breakfast accommodations in country farmhouses.  Traditional German standards of cleanliness assured that we would always find simple, but thoroughly comfortable and affordable rooms.  Gemütlich!]
We stayed in the Bauernhof "Luttenseehof" on Gröblweg 41, belonging to the Seitz family, with their two or three children (couldn't be sure).  They have a beautiful farmhouse, like a picture postcard, and about a dozen cows. Our room could sleep 4, with a totally unobstructed view of the mountains from the balcony. It's situated at the foot of a ski lift. 
Tim's obsessive mosquito vendetta got the best of him.  It was a very long night both for me, and the mosquitoes.  I'm thankful that I didn't meet my death by towel snapping.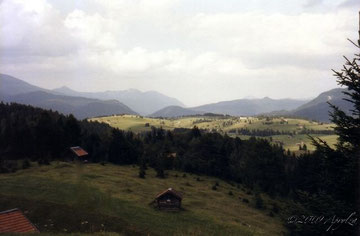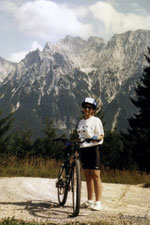 The next day, we ate lunch at the Berggasthof Gröblalm.  [Nothing said about the morning.  Perhaps we enjoyed a respite from the invasion.]  The meal was rather expensive, considering it was heavily salted, hearty cooking.  Mittenwald beer was the perfect accompaniment for that.  And we were granted another beautiful view, this one at 2000m.
After lunch, we rode our bikes up a mountain to the Korbinian Hütte. (I'd rather walk.) Again, another beautiful view.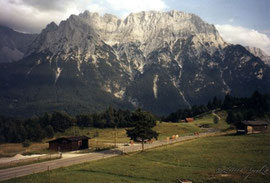 We ended our ride at the Luttensee, a very clear, and very cold pond over the hill from the Bauernhof.
I commented here that we, "Took our showers (one for 3 rooms) and piddly." [Meaning the state of the shower water, I think.  It's nice to see that I hadn't lost my York County vocabulary at this point.]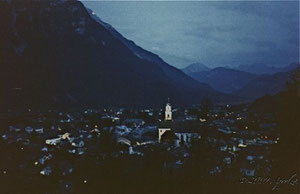 We then went onwards and downwards to Mittenwald for dinner at the Hotel Post.  [You'll find a Hotel Post in almost every village, and in most cases, it has served as the local mail stop and inn for several hundred years.  These days, the Post is the finest restaurant in town.]
This was a nice selection of hearty eating.  They served a great Kaiserschmarm. It was really eggy and doughy, although I thought it had too many raisins.  Tim's tomato soup was excellent, too.  It wasn't so thick and salty as "Gröblalam".  This was a vegetable stock with fresh tomato (juice?) and just enough cream.  He also enjoyed his Würstsalat.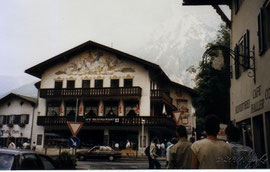 Mittenwald is a nice town for walking.  It borders on touristy—selling its own Obstatler [fruit liquor] in glass bottles in the shape of violins.  There are very few signs in English, though, and the man at the tourist office didn't speak English with me.  We found many Trachten [traditional clothing] shops in this town.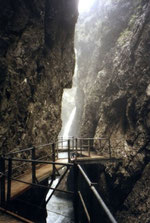 Woke up to sunshine at 7am, but it quickly turned overcast, and rained while we ate breakfast.  One doesn't leave Frau Seitz's table hungry!
The weather held off long enough for us to visit the Leutaschklamm.  Parking was at the west end of town.  From there, we walked for about 10 minutes to the turnoff path, and then another 10 minutes to the gorge.  (We were wishing we rode the bikes.)  This was a pretty little gorge with about a 5-minute walk on planks over glacial-blue raging waters and into a gorgeous waterfall.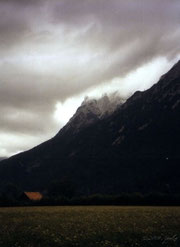 After that, we drove to the Karwendelbahn.  We were taking our chances, but blew it—the weather didn't clear, so we rode up and into a cold cloud.
It was a comfort to go into the cozy dining hall for hot gulasch soup and a cold beer.
Eventually, we walked through the cloud to the end of the world, and from there, took the tunnel that leads to the Dammkar Hütte.  This was a really impressive tunnel cut into the rock. There is a balcony/viewpoint along the way.  (Overlooking more cloud.)  Once again, we came out into a cloud.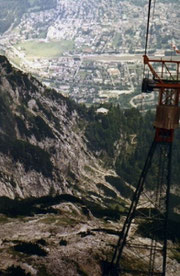 The view from the gondola was worth the cost.  One can see and admire climbers, and overlook Mittenwald and the Alpenvorland toward Wallgau.
            After that, we returned home to sunny München.
[More randomness about Apryl here.]
Those at the top of the mountain...
by
AprylZA
Browse more
Courage T-Shirts