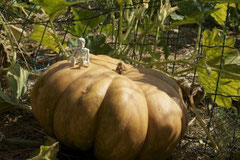 As you gain — or regain — your creative identity, you'll lose the false self you were nurturing.  Losing yourself is a death and the ensuing crisis involves trauma.  Remember that the more you feel yourself to be terra incognita, the more certain you can be that the process of transformation is really working.  You are being reborn.
Do not to expect too much metamorphosis too soon. Growth must have time to solidify into a new form.  One day at a time, you are building the habit patterns of a healthy walk of faith.  Remember to be gentle with yourself.  Easy does it.
Children fall and check for an audience before bemoaning their agony.  Unchecked, they rise and toddle off to the next adventure. Over time, we grow to become embarrassed or fearful of our accidents.  We learn to avoid it, or after concluding there is no escape, we just lie down and take it, ineffectively wishing it away.
"FAILURE is one of the uglies of life.  We deny it, run away from it, or upon being overtaken, fall into permanent paralyzing fears.  Probably because of our reluctance to face it, not much is written about the anatomy of failure."  Howie Hendricks
"If you want to walk on water, you've got to get out of the boat."  John Ortberg
The process of change is crisis:  Birth follows death, but not without GRIEF.  The "old you" is dead, you needto grieve the loss.
As the new life in you grows in strength, your spirit revels and celebrates.  Coinciding this rebirth, you must not overlook your past as it grieves its own death.  The rush of long-buried feeling will be frightening in its intensity.  As with any rupture, there is both tension and relief.  Habitual depression breaks up like an ice floe.  Long-frozen feelings thaw, melt, cascade, flood and often overrun their container:  you. [C S Lewis' The Lion, The Witch and the Wardrobe, alludes to this beautifully, as the land that's "always winter but never Christmas" begins its spring thaw.  Look for Disney's portrayal in its recent film.]  You'll find yourself feeling volatile and changeable.  That's not a bad thing.
Look at one situation in your life that you feel you should change but haven't.  What is your compensation for remaining stuck?
No matter which form growth takes, there is another kind of change that's slower and subtler, and accumulating daily whether you sense its presence or not.  "Nothing dramatic has happened to me.  I don't feel like I've been born again," moans the one who is being transformed before our eyes.  It is after we acquire the discipline of journalizing and taking solitude dates, that we begin to move at an increased pace without even realizing it.
When we actively pursue the Healer (Matt 20:29-34), many changes and shifts in our attitudes begin to occur.  They will seem eccentric or even verge on the insane.  People will try to shush you, but you've found a truth that can't be contained.  No runner's cramp here.  You might even consider yourself to be soaring from time to time.
There will be a change in energy patterns.  Your dreams will become stronger and clearer, and you'll find yourself remembering them in déjà vu moments throughout the day.
"And afterward, I will pour out My Spirit on all people.
         Your sons and daughters will prophecy,
                  Your old men will dream dreams,
                  Your young men will see visions."  Joel 2:28/Acts 2:17
Many areas of your life that previously seemed so right will suddenly feel very wrong.  Your wardrobe may start to look as if it was meant for someone else.  (It was.)  It's time to wear some colors and styles that aren't supposed to work for you.  How do others respond?  How do you feel apart from their comments?  You may decide to reupholster a couch or get a neighbor to help carry it to the curb.  Your taste in music may change.  You may find yourself creating an impromptu song, dancing, running.  It's time to weed the garden.  Read Matt 13:24-30.
Describe your heaven-on-earth.  Where do you feel most alive?  In the bustling metropolis or the wild backcountry?  Are you called to joy in posh, sparse or over-stuffed country?  Fill one page with an image, drawn or photographed.  What's your favorite season?  Why?  Find a picture of an environment that inspires you.  Keep it next to your work area.
[
The Source starts here
.]