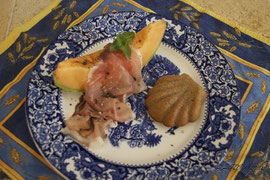 I call these "Taste of the 80s" Bran Muffins, because they were quite the food trend in those days.  You can treat yourself to one after you've been jogging in Central Park.
Or perhaps you'll enjoy them with a light salad….  Here's a slice of Cavaillon melon with Parma ham and a splash of balsamic vinegar; season with salt & pepper, and garnish with mint. 
To prepare the muffins, preheat oven to 200ºC (400ºF).
Combine:
         375 ml (1-1/2 C) milk                  125 g (1/2 C) melted butter
         2 eggs                                    200g (1/2 C) honey
Stir in:
         175 g (2 C) crushed bran cereal
         1/2 C dried fruit                           1 t vanilla
Let stand for 5 minutes; then mix in:
         250 g (2 C) whole grain flour         1/4 t salt
         2 t baking powder                           1/4 t ground clove
         125 g (1/2 C) sugar                  1/4 t ground cinnamon
         50 g (1/2 C) chopped walnuts
Stir until just blended--don't over beat.  Spoon into muffin cups.
This makes 18, so I freeze them in batches of 6.
Bake 200º C for 20-25 minutes.
Still LIfe with Asparagus & Lemon
by
AprylZA
View all the other
artwork
at zazzle.com