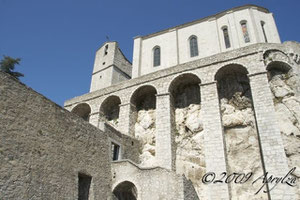 The revival of this historic sport is experiencing a slow start.  What with the stinging nettles and guard dogs, we've yet to enter any property to which we've not been previously invited.  And with the very reasonable price of admission, the gates of this national monument fling wide for the guest.
Situated on a rock separating southern Provence from the north, the citadel of Sisteron has been a fortress since tribal days.  The Romans overthrew the Gauls, and built the only bridge on the Durance River for many kilometers.  None of the original fortifications remain, nor is there evidence of the centuries that followed, until constructions began again in the 13th century.  Consequent projects built one upon another, Napoleon charmed his way northward in 1815, and the citadel stood the test of time until bombing in 1944.  It is reconstructed, and an amazing monument to experience. 
…especially with those randomly placed plywood cutouts of historical figures throughout the fortress.
The village below hosts a friendly tourist center, and there is no shortage of restaurants.  Sisteron is noticeably tidy, and there is evidence that someone takes remarkable care of the flowers.  Enjoy!
The Fortress of Carcassone
by
AprylZA
Create your own
Custom postcard
with zazzle