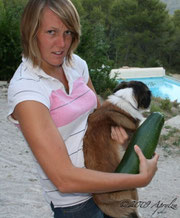 There are so many delightfully delicious ways to dish up a courgette (aka zucchini), and this one has so many variations, that it's never the same squash twice!
In fact, there are so many ways to vary this recipe, that you don't even need zucchini.  Why not substitute another type of squash, or aubergine (eggplant), or capsicum (bell pepper)?  This is also a great way to use mustgoes (leftovers) in new and surprising forms…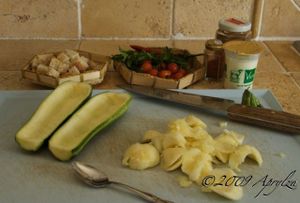 This will serve 2 as a main course.  You can easily double it by adding more stuffables.
Halve lengthwise & scoop centers from:
         500 g zucchini (or whatever)
I use a grapefruit spoon.  Chop innards and sauté until tender with:
         1 T olive oil                           1-2 crushed cloves garlic        
         1 minced onion                     1 t herbs de Provence
Remove from heat, and mix with your choice of:
         2 T chopped parsley               1 beaten egg
         1 chopped tomato                  1/4 C sliced pitted olives
         1/2 C crumbled feta               1/2 C grated hard cheese
         juice of 1/2 lemon                  125 g chopped mushrooms
         2 T chopped chilies
         blend of 2 T tomato paste + 2 T red wine
         2 T toasted pigñoli or chopped almonds or sunflower seeds
         1/2 C cooked brown rice or wheat germ or breadcrumbs
         OR a serving of curried something or leftover risotto!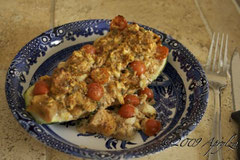 Stuff shells inside a greased casserole; sprinkle with paprika
Bake 180° C (350°F) for about 20 min.
Confounded by choice?  Try this one: Turkish Zucchini in Yogurt
Slice lengthwise:         1 large courgette
Scoop out insides, leaving a 1/4"-thick shell.  Set aside.
Mince innards; mix with:
         2 C cooked rice                      1/2 t ground cinnamon
         2 T tomato paste                    1/2 t paprika
         2 T minced fresh parsley         pinch cayenne
Stuff courgettte shells.  Place in greased casserole; set aside.
Blend:
         1 C thick yogurt                      1 T olive oil
         4 crushed cloves garlic            2 T minced fresh mint
Spoon around zucchini.
Bake 190ºC (375ºF) for 30 min.
         Now that you've got the idea, take it from there….