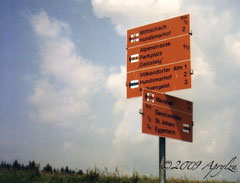 It's an education, reading my old journals.  What was I thinking, that I said so little, but revealed so much?  A brief note, an observation, a judgment; I was my own audience, and I knew myself so little.  What do I see, eighteen years later? 
So much more!  And now, with photos!
"Villach 26.aug – 1.sept.1991, 
A great week of walking.  The Kurpark area is well-kept, but needs a litter patrol."
What a hopeless perfectionist I was!  Or maybe it was really that bad?  In any case, it was only logical to discover that the farther one travels from the car park, the more wild and wonderful is life far from the madding crowd. I did a lot of that, too.  It never occurred to me that perhaps it wasn't entirely safe to be wandering alone in the forest and mountaintops.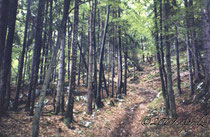 One man tried telling me that, but by that time I was already high up on my way to the Alpen Straße.  He also told me to watch out for the holes.  Sadly, I didn't any of the details in my journal, so I don't recall if they were caves or abandoned mines, or even how I might find them again.  Nor did I write about his lesson in mushroom identification, but who could forget that?  His wicker market basket was lined with a white linen tea towel that created a bright foil for the autumn gold.  He knew how to find the treasures of the autumn forest.  (As often as I've heard the expert reveal his identification secrets, I don't trust myself to tempt the 'final omelet.')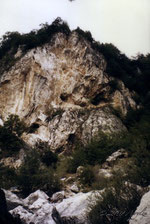 My only comment on this walk was, "Steep in places, but easy.  On a clear day, it would be a great view over Villach."  Why'd I bother to write this, when I took photos?  Also, I make no word or speculation as to why he took the evident risk of wandering alone, especially with his precious booty in the basket.  Most importantly, why was I too shy to ask if I could take his photo?  What was I thinking?!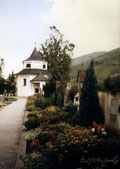 Other walks from the Warmbad took me to Maria Gail, "FLAT, a little dull, and on and along main road most of the time.  The church was worth seeing.  Many fresoes and stone monuments. Then into Villach to Heilige Kreuz Kirche.  Beautiful outside, but not as impressive inside."  This, of course, was long before wikipedia provided more information than the brochure offered by the tourist office.
My whole purpose and excuse for visiting Villach was because Tim would occasionally drive the 4-hours from Munich.  "Warmbad" means that it's a spa, and happily, his company would put him up there.  Here's what I wrote, "About Karawankenhof:  The reception staff (excepting the old guy) are always helpful and friendly—and English-speaking. Plenty of activities happening. Good programs for children.  The rooms are too dark.  They're getting shabby, too, in need of remodeling.  The bathrooms feel like a locker room."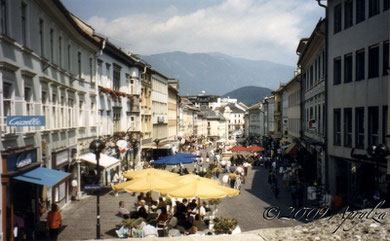 Ironically, I don't remember the first thing about 'the old guy.'  As for the rest of them, my favorite memory was one of the times when I got stood-up for dinner.  I was so hungry after another day of walking, and there was no response to my desperate paging.  (Remember those days?  Dial me at this number, followed by 6734—was that it, 'help' spelled upside-down in digits?)  So, I entered the dining hall for the first time ever.  We always ate outside the hotel, so I didn't realize that dinner was served on a meal plan for the cure guests.  Never mind, I was thoughtfully seated with a tiny 92-yr old Austrian woman, or maybe she was 96.  In any case, she was more than well-preserved, she was thriving.  My German was tolerable, and she was so kind and thoughtful that we shared a delightful meal together.  The food was rather bland and overtly healthy, but it was a feast when seasoned with enjoyable conversation between generations and cultures.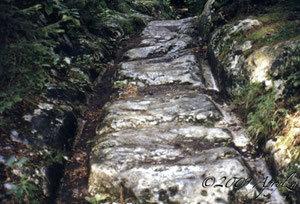 I surprise myself here by making no mention of the Römerstraße—the ancient Roman road—that was up and behind the spa.  Therefore, I let the photos tell the tale, including a stop at the mountain spring.
And by, "Plenty of activities happening," I refer to tourist bus trips to surrounding attractions in the state of Kärnten.  The Hochosterwitz fortress was very impressive…