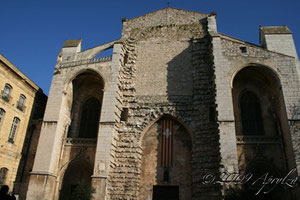 I grew up in Pennsylvania, so there's a part of me that simply shrugs off any claims of fame that George Washington slept here.  Perhaps that's why I never fully considered another historical figure renowned for sleeping around.
Although it seemed rather unlikely to my ignorance that Mary Magdelene came to Provence, it is highly possible.  The town of St Maximin is located on what was a Roman road that connected the strongest empire in the world 2000 years ago.  It's such a vital link to the rest of Europe that the road has expanded into the autoroute, and the world still passes.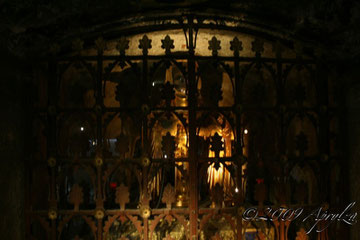 The brochure of l'Association des Amis de la Basilique Ste Marie Madeleine gives this history, "Driven away from Jerusalem by persecution with her brother Lazarus, her sister Martha and her companions, Marie Madeleine participated in the evangelism of Provence and retired to a grotto of the Sainte Baume mountains.  She died in St Maximin's arms, the bishop of Aix, in this village.  The relics of Ste Marie Madeleine were kept in a sarcophagus and then buried in 710 in order to avoid looting by the Sarrasins.  These relics remained lost until 1279 when Charles II of Anjou, Duc de Provence, later king of Sicily, discovered them.  The Pope Bonifacius VIII and Charles II decided to construct a Basilica worthy of being a reliquary for Ste Madeleine.  The construction was started in 1295 together with that of the convent next to the Basilica:  the custody of the relics was entrusted to the Dominicans, Preaching Brothers, who settled in the convent until 1957."
Depending on the level of your French, you can learn much from their excellent website.  The English wikipedia article tells more than I care to cut and paste, so follow this link if you want to know more.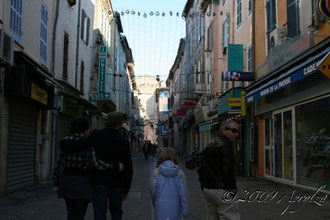 You won't go hungry in this town, either.  There are plenty of restaurants here.
St-Maximin-la-Ste-Baume (just 'St-Maximin' on the roadsigns) is 40km east of Aix-en-Provence on the A8/N7. Office de Tourisme, Hotel de Ville, 83470 Saint Maximin la Sainte Baume, ☎ 33 04 94 78 00 09