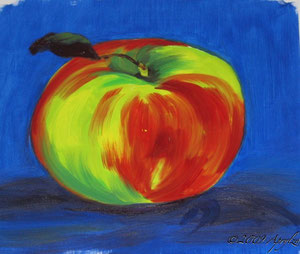 Picture a loving heart so huge that all creation is a brilliant reflection of His glory.  That's the image that we were created to reflect.   But it's not love if we are coerced into relationship.  Our loving Creator intended that we should have a choice. 
God's most beautiful creation, that angel named 'Lucifer', made it his passion to draw us away from the pure light like moths to the flame.  By the third chapter of the Beginning, (Gen 3) sin broke the bond of love, and we have been bound to failure because of it.
Genesis 6:5-6 tells us of God's heart for the first time in His Word, and there is no joy.  His heart is broken because ours made this choice for limitation.  We know we are not what we were meant to be.
"Sing to the LORD a new song, for He has done marvelous things;
His right hand and His holy arm have worked salvation for Him."  Psalm 98:1
John Eldredge points out in Waking the Dead, "Paul refers to Jesus as the Last Adam and the Second Man (1 Cor 15:45-47)…
Our first father, Adam, and our first mother, Eve, were destined to be the root and trunk of humanity.  This was intended for us as well.  We were meant to be the kings and queens of the earth; the rulers over all creation, and the radiant image-bearers of a glorious God.  Our natures and our destinies were bound up in our original ancestors.  Their choices will forever shape our lives, for good or for evil.  It is a profound mystery, considered myth by many, but the evidence reverberates through the generations.  As the old saying goes, "the nut doesn't fall far from the tree."  We laugh at the family quirks, but from where do little children get their propensity to manipulate or lie or to throw breathtaking temper tantrums?
Our first parents chose, and it was for the option of self-protection.  They broke the one and only command that YHWH gave them, and the rest is history!  They made the choice to decide for themselves.  The turning away from the Father has become the essence of human nature.  Parents wonder why their toddlers are so self-centered.  It doesn't need to be taught to them.  Paul makes clear in Romans 5:12, 19, "Sin entered the world though one man…through the disobedience of the one man the many were made sinners."
"For just as through the disobedience of the one man [Adam] the many were made sinners, so also through the obedience of the one man [Christ, the Last Adam] the many will be made righteous."  Rom 5:19; Righteous (adj) 1.  Morally right or justifiable.  2.  Very good; excellent—take your pick!
"For if, by the trespass of the one man, death reigned through that one man, how much more will those who receive God's abundant provision of grace and of the gift of righteousness reign in life through the one man, Jesus Christ."  Romans 5:17, emphasis added.
Do the traits of the First Adam seem more a part of your life than the Second Adam?  So then, what's Christ's motive in rescuing you?  Is this the freedom that He promised for the prisoner in Luke 4:14-18.
"A man is not a Jew if he is only one outwardly nor is circumcision merely outward and physical.  No, a man is a Jew if he is one inwardly; and circumcision is circumcision of the heart, by the Spirit, not by the written code."  Rom 2:28-29, emphasis added.  Consider also John 7:14-24 and Col 2:11.
This is so complex, yet so simple, that it seems almost incomprehensible. There's more to it than just our temperamental natures keeping us from connecting with YHWH.  Our Creator knows it, and offers a choice and a promise.
The circumcision is His Covenant promise to us that, although there is a barrier surrounding our hearts, He devised a plan that cuts straight through "to the heart of the matter."  As the death of Jesus tore the curtain to the holy of Holies, (Matt 27:51; Mark 15:38; Luke 23:45) opening one's heart to Christ is an invitation to pure personal healing.
Evangelists may make another notch in their Bible at your conversion, while the angels rejoice.  Meanwhile, you are still waiting to be transformed.  You've been rescued from captivity, so then, what's new?
Your heart, that's what!  Trusting in Christ means that you've chosen death to the sinful nature inherited from Adam, and life for a holy nature from Christ.  Faith demands that we replace the lies with a new hope in the truth.  This requires consistent practice in breaking those old, bad habits of the self-protective nature.
"Do not conform any longer to the pattern of this world, but be transformed by the renewing of your mind.  Then you will be able to test and approve what God's Will [truth] is — His good and pleasing and perfect will."  Romans 12:2
"Astonish me!  Let the herd graze where they may, but you be different.  Discover My power in you.  Live your theology as biography."  Tim Hansel from Holy Sweat; Word Books; Waco, TX; 1987; pg 36
Is there any room in your house that you could make into a private space for yourself? Decorate it for joy, not as an office, although you will probably do some of your best work there.