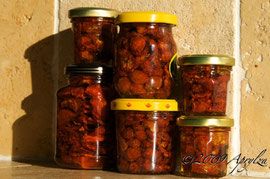 We have to ration these at my house.  They're so good with fresh bread and goat cheese!
Slice 1 kg (2 lbs) sweet tomatoes
Place them on a single layer, cut-side up, on a metal rack placed over a foil-lined baking tray.  We often use cherry tomatoes, so a layer of baking paper can be used to keep the little guys from falling between the cracks.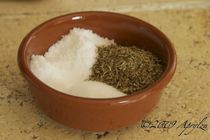 Sprinkle with a mixture of:
2 T salt
1 T sugar
1 T dried herbs de Provence (or whatever takes your fancy; mint is nice)
option:  1 T dried garlic
Set the tray in the oven at the lowest temperature—not hotter than 80°C.
If your oven has a fan option, use that.  Otherwise, leave the door open slightly so the moisture can escape.
Bake for 6-12 hours, until the tomatoes are dry, but still pliable.  The time will depend on their size and water content.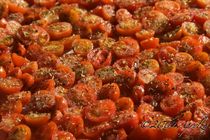 Pack the dried tomatoes into sterilized jars with these optional ingredients:
1 sprig rosemary
1-2 dried chilies
Note:  I've read that raw garlic can often harbor nasty bacteria so as much as you may be tempted to pack one into each jar, abstain!
Top jars with olive oil.  Maneuvre the contents with a knife or skewer to insure that the air bubbles can escape. 
Seal the jars, and then try to wait at least 2 days for the flavors to develop.  The tomatoes will improve in keeping for up to 2 years.