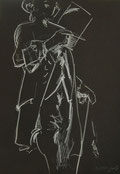 All of the exercises in this study aim to shoot straight to the heart.  The goal is to free the prisoner before the Accuser has a chance to tighten those bonds again.  This one might free you to pursue a few deprived interests, as well as providing a momentary break from any of your unidentified narcotics. (Gal 2:17-3:5)
If you're stuck between your old life and the new, this is an effective jumpstart — a defibrillator of the heart.  It is the discipline of fasting, and of sacrifice…it's a confrontation of legalism versus obedience…and a consideration of a change of heart.
READING DEPRIVATION From Julia Cameron's The Artist's Way: No reading for you this week.  For most creative individuals, words are like tiny tranquilizers. 
         It is a paradox that by emptying our lives of distractions, we are plunged into the sensory world outside of the covers. We become free to dive deep into the well.
         Reading deprivation casts us into our inner silence.  We often cannot hear the inner voice above the constant noise of daily living.  Focusing on the written word is just one way to divert us from ourselves.
This is just one way to become aware of other pollutants [substitute distractions].  When you are aware of the inflow, you can learn how to keep it to a minimum, and you will have the potential to be rewarded by a new outflow.  Our own actions, our own thoughts and feelings —our own spiritual gifts — will begin to strain the sludge of blockage, to shift it and push it away until the living water runs pure and deep.
Reading is an addiction for many creative people.  Julia Cameron puts it so well, "We gobble up the words of others rather than digest our own thoughts and feelings, rather than cook up something of our own…. As blocked creatives, we can be very creative at wriggling out of things….The nasty bottom line is this:  sooner or later, if you are not reading, you will run out of work an be forced to play." 
Because we want to stay focused on the truth that God has for us, daily Scripture reading is immune from the quarantine, but devotional commentaries and prescribed prayers are definitely out!
This exercise can be repeated with many variations:  News, Computer, TV, food (Richard Foster's Spiritual Disciplines has an excellent chapter on fasting), you name it…. And don't fail to notice of how easily others' opinions attempt to invade your own.
"Even the News is a problem because of its artificial importance… Every night there's urgency to the stories…. But if everything is urgent, then nothing is." John Eldredge, The Journey of Desire; pg 206
Write out a prayer that applies to you, and pray it every day for a week.  You might want to borrow Psalm 86.