More mysteries of my journals unraveled through time and space
Viehscheid 13.sept- 15.sept, 1991:  Oberstdorf, Germany
The Viehscheid is an annual event for the alpine villages of Europe.  The herds have been living it up in the high altitudes during the summer, enjoying rich fresh grass and depositing their fertilizer on the hiking trails.  They pack up and head for home mid-September. 
Because all the cattle of the village are grazed communally on the mountaintops, their homecoming is primarily to distribute the herds back to their rightful owners. So, because the community is gathered in one place, there is no better reason to create a celebration.  And because a small alpine village created a celebration, we are all the more inclined to join them.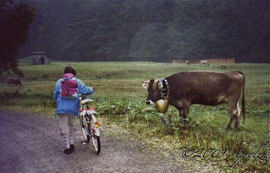 My journal gives the directions from München, taking "the Lindau autobahn to Memmingen then went south to arrive in Oberstdorf at 8am."  It was a 3-hour drive, so clearly we were committed to this one.
            "Followed the Viehscheid signs to a field, then followed the line of people where we all stood around and looked at a meadow full of cows wearing gigantic bells (about 20lbs each.)  [Why?  Isn't all that weight around their necks rather cruel?  Consider that these huge creatures have been rambling around free all summer, and they're fully loaded with the best green grass they'll see until next June.  These bells are BRAKES!  Form and function at its traditional finest.]
            The weather was disgusting.  We (fortunately, this time) brought our all-weather jackets, which fought off the chilly mist-stuff that spotted our glasses so nicely.  One could identify the locals, not only because of the Trachten [traditional clothes.]  The amount of wool per person was quite impressive.   Also, we had no idea that hiking boots could have such thick soles and cleats.  Clearly, these people were at one with the environment.
            The first group of cows was nearly punctual.  They arrived a few minutes after 9am.  We could hear them long before we could see them.  The sound really can't be described, but it was something like 100 hooligans banging on very large skillets.
            Only the first cow had the fancy headdress.  We assumed that all would."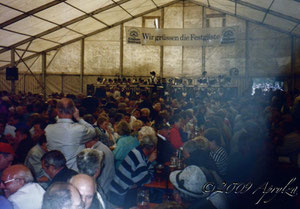 "We watched three groups come trotting past, until it got too damp and miserable to watch and WAIT anymore.  Headed back to the Fest tent at 10:30am, watched cows and people, then went into the tent for lunch of Bergkäse [Alpine cheese], Semmel [breadrolls], Würst [sausage] & Maßbier [draft beer].  Really enjoyed the band—precise, for a change.  Had great seats for people watching, too.  Drank two Maß.  [That's 2 litres of beer!  On my first day in Germany I learned that due to the pure quality of the beer you don't buy it, you rent it.  Hence the following comments, obviously.]
            Headed out to the restrooms, but decided that DM 1- to squat was out of the question, so I lined up with the rest of the women (all complaining about DM 1- to pee) beside the nearest barn!"  […as if to declare, 'I piss on your toilet trafficking!']
            "The weather had cleared considerably by now, so we watched the proceedings:  divvying-up the cows to their owners, sorting the bells, too.
            By 2:30 pm, the cows were on their way home, and we decided to find our guesthouse."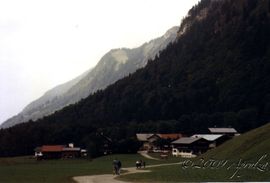 "Drove around the town for 1hr with a nameless streetmap. Finally discovered that the road we needed turned off from where we'd parked earlier.
            Speilmannsau, Gebr. Geiger:  The owner wasn't super-friendly, but could provide room, food, info, and so on in German.  I felt comfortable here, because I'm the type that gets homesick FOR summer camp.  The room was drab and purely functional, but I've never been to a summer camp with a Fedderdeckel [down comforter], and the bathroom was recently remodeled.
            Tried to get a room in Schwand, Bes. Max Tauscher, but they were full.  Where we stayed last year.  Parts of it are new.  This is where the Farmers get together on 13.Oct—one month after the Almatreib.  Frau Tauscher speaks English.  The whole staff was very personable.
            The food was rather expensive at Spielmannsau, but tasted good, though.  It was a toasty, warming experience after a damp day.
            The guests' dining room was also post-summer camp with wonderful photos of early-Spielmannsau and hikers.  Neither of which have changed much.  Hiking is still the uniform."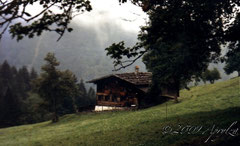 "Started walking at 10:30am.  From Spielmannsau EWW#5 to Gerstuben Hütte for lunch at 11:45.  This place is gorgeous; an old hunters' hut that looks toward an historic farmhouse next door.  It's a deep brown with bright flowers EVERYWHERE.  Continued on trail #16 past Dietersbach Alpenhütte (closed) and up, straight up, to Alpensattel.  Thick fog convinced us to go straight down the other side of the mountain instead of up to Raubeck and making a loop back to Speilmannsau.  Went instead to the Käser Alpenhütte for a rest and a Rüsse [mixture of wheat beer and lemonsoda.]
            Talked with a couple of NeueBundesländer we met along the way--very nice people from Dresden.  [Lest we forget that Germany had been reunited for less than 2 years at this point.]
            Left the valley by way of trail #14.  It really would've been beautiful if the clouds hadn't cut off half the mountains!
            Arrived back at Spielmannsau at 18:40.  Exhausted after about 23km."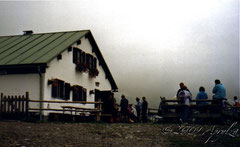 "Sunday morning, walked on European trail #5 at 9:30am toward Oberauhütte, AmKnie, and finally arrived at Kemptner Hütte (1844m) at 13:20.  Got to see gorgeous sharp peaks before the clouds rolled in.
            Refueled on Milchreis mit früchte [hot rice pudding with fruit], Braten with thick gravy & Spätzle. [All in one meal?  He must've had one, and I the other.] Walked back the way we came.  Terrifying."  [What was?  That we were walking for another several hours in dark clouds, or that we'd eaten all that?]
My journal and photo album offer no more details from this point.  I can only assume that fatigue curtailed my reports.