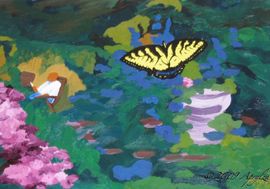 Why is the resurrection of Christ important in your life?  Does this question stir up contentious memories?  Are you willing to confront them? 
If He was crucified in your place, then there's no need to stay hanging around up there yourself.

 

Get out and live again!
The cross is not the salvation of all Christendom.  Paul exclaims, "If Christ has not been raised, our reaching is useless and so is your faith…If Christ has not been raised, you faith is futile; you are still in your sins."  1 Cor 15;14, 17
Jesus Christ died for us, and more importantly, He was also raised for us.  His resurrection carries far more significance His unjust death.  His defiance of natural laws opens a world of possibilities for us.  Which natural laws would you like to defy?
"For if, by the trespass of the one man [the First Adam], death reigned through that one man, how much more will those who receive God's abundant provision of grace and of the gift of righteousness reign in life through the one man, Jesus Christ."  Rom 5:17, emphasis added
"We are therefore buried with Him through baptism into death in order that, just as Christ was raised from the dead through the glory of the Father, we too may live a new life…In the same way, count yourselves dead to sin but alive to God in Christ Jesus."  Rom 6:4, 11
"But because of His great love for us, God …made us alive with Christ."  Eph 2:4-5
John Eldredge says in Waking the Dead, "Adam was a pattern of the One to come.  He was the root and trunk of our family tree.  Our hearts fell when he fell.  We received our sinful nature from him.  Since we now received a new nature and a new heart from Christ, our Second Man.  We have been made alive with the life of Christ.  Just as we received our sinful nature from Adam, so we now receive a good and holy nature from Christ.  It has always been God's plan, not just to forgive you, but to restore you:  'Make a tree good and its fruit will be good.'  Matt 12:33
"In the same way, count yourselves dead to sin but alive to God in Christ Jesus."  Rom 6:11
On separate slips of paper, list 25 things that symbolize adulthood, success, and sophistication to you.  Which of these items do you already possess, and can thank YHWH and use to reflect His glory?  Which have become idols and could distract your heart?  Ask yourself, "am I in charge of this, or has this taken charge of me?"  Listen carefully to your honest answer.  (It will probably be a whisper.)  Set them in a separate pile.  Which of the remaining items are worth the pursuit to attain?  Which of the qualities are characteristic of our hearts of stone?   Consider any fears that haunt you and the feelings that surround them.  Is there an old childhood situation that you're still protecting yourself from?  Is there a need you're trying to fill?
         Do the others contain the qualities that are characteristic of your new heart?  Identify the vision in your desires.
         Pray for the victory of your new heart over the old, and burn the old list one-by-one, giving each of them over to the Spirit of Truth.  Those characteristics have been done away with when you turned away from your old life.  Make a ceremony of it.  Celebrate!
Your heart is good.  Read those qualities of your new heart again.  What new or renewed hopes do you have for living the life you desire and that YHWH designed specifically for you?