It's not difficult to underestimate the strength of a north wind, even through the tone and force with which a Provençal will explain away his irrational behavior, "alors, c'est le cause du Mistral!"  It was only our determination to explore just one more village that gave us the strength to prevail.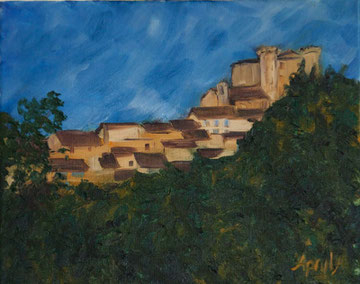 A hilltop castle was our reward.  The castle was first mentioned in records of 1256, and transformed into the estate of Pierre III de Laurens in the 17th century.  Although partly destroyed during the Revolution, it was restored under the Empire and expanded in 1862.
You'll also find a church dating from 1688, an old clock tower, and a Renaissance gate from the 15th century.  The view from the top of this hill is extraordinary.
St Martin de Pallières is located east of Aix-en-Provence.  Take the D560 (29km north of St Maximin), continue to Varages and turn west on the D561 until you see the castle.
[More Paysage Provençal here.]
Notre Dame de Revest, Esparron, Provence
by
AprylZA
See other
Provence Mugs