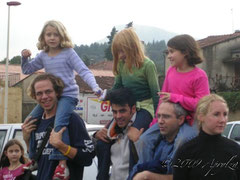 Be fast, frivolous, and spontaneously fun!   This is a race against that devious internal censor!  Ready with paper…steady with pen, and GO!
1.  List 5 hobbies that sound interesting.
2.  List 5 classes that would be intriguing.
3.  List 5 things you personally would never do that sound fun.
4.  List 5 skills that you wish you had.
5.  List 5 activities you used to enjoy doing.
6.  List 5 random interests you would like to try at least once.
"I pray that out of His glorious riches He may strengthen you with power through His Spirit in your inner being, so that Christ may dwell in your hearts through faith.  And I pray that you, being rooted and established in love, may have power, together with all the saints, to grasp how wide and long and high and deep is the love of Christ, and to know this love that surpasses knowledge—that you may be filled to the measure of all the fullness of God."  Eph 3:16-19
None of this can happen until we surrender our lives back to the Creator.  YHWH dwells in your heart.  Does that seem hard to believe?  Why do you think that is?  Not one of us is an assembly line knock-off.  We are each of us created by a Master who loves His work.
Have you surrendered your entire life?  Can you forsake all the distractions—the "idols"--so that you really can live the full life that Jesus promised?  Say 'yes' to your heart, and He will do the rest.  (Are you praying this for anyone else?)
John Eldredge assures us, "Until you are willing to believe [that you have been given a new heart and that you can trust the Caretaker], you'll find it difficult to make decisions.  You'll have to be motivated by external pressure if your own heart can't motivate you.  In fact, you won't be able to find your calling, your place in God's kingdom, because they are written on your heart's desires.  You'll have a really hard time hearing His voice in a deeply intimate way, because He speaks to us in our hearts.  We'll live under guilt and shame for all sorts of evil thoughts and desires that the Enemy has convinced us were ours.  YHWH will seem aloof.  Worship and prayer will seem like chores."
God really has cleansed your heart and made it new.  Have you accepted this amazing grace?
         Let go, let God.
What has been your greatest loss?  Have you allowed yourself to fully grieve?
Here are a few reflection questions:
How did this chapter affect you?  Write out your impressions.  Are there any new challenging thoughts, emotions or stirrings in your heart?  Is there anything new that you're intending to do?
If you did break your reading deprivation or chosen fast, write about what happened. Was it a tantrum?  A slip-up?  A binge?  How did you feel afterwards?
How many days did you open your journal?  What happened on the day you skipped?  Was there confession or cover-up, guilt or release?
Did you witness any Divine Coincidence this week?
Were any other issues this week significant in your transformation?
Live out loud!
by
AprylZA
See other
Cathedral Cards