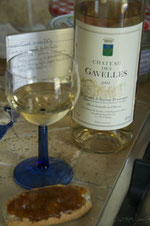 You may think this sounds rather scary.  Go ahead and think it.  C'mon, try it, you'll like it!
Peel, remove pith and seeds from 1,5kg (3lbs) fresh pumpkin
Grate pumpkin flesh; and then combine in preserving pan with:
            1l (4C) water
            2 thinly-sliced oranges
            2 thinly-sliced lemons
            100g (¼  C) peeled and finely-shredded fresh ginger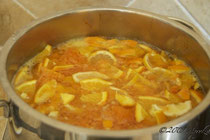 Heat to boiling; simmer until citrus peel is soft, about 25-30 min.
Add, stirring to dissolve:
            1kg (2 lbs) sugar (I use 500 g white sugar + 500g brown sugar)
Return to boiling, and then simmer over medium heat until the mixture is thick enough for a wooden spoon drawn through the center to leave a clear channel.
Remove the pan from the heat and leave the fruit to settle for a few minutes.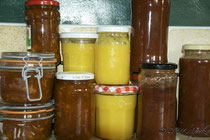 Ladle the marmalade into the hot sterilized jars, then seal.
Serve as a breakfast spread, waffle and crêpe topping, or as a filling for tarts and pies.
La Cuisinière Provençale
by
AprylZA
Design an apron
at zazzle.com