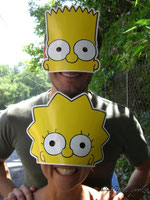 We're all searching for significance in this world.  Every person longs to know that he is worthy.
We spend the first twenty years trying to find our place in the world, and the rest of our lives trying to find what we lost along the way…innocence…ourselves.
"God endowed you with a glory when He created you, a glory so deep and mysterious that all creation pales in comparison.  A glory unique to you, like your fingerprints are unique to you, like the way your laugh is unique to you.  Somewhere deep inside we've been looking for that glory ever since."  John Eldredge
"The LORD their God will save them on that day as the flock of His people.
They will sparkle in His land like jewels in a crown.
How attractive and beautiful they will be!"  Zech 9:16-17
"Those who look to Him are radiant;
            Their faces are never covered with shame."  Ps 34:5
Cinderella wasn't a cute, affectionate nickname.  It meant 'little cinder,' that she was nothing more than a worthless kitchen wench.             
What's your label?  Did you choose it, or was it given to you?  Would you fight to keep it, or to be rid of it?  There may be some truth to it, but there's so much more to you than that! What name would you rather carry?  What would it take for you to leave the ashes, and head for the ball?
YHWH's heart toward you is that of a jealous lover.  He's coming for you, insisting you come out of the shadow.  No more hiding.  He wants to expose your beauty to the light.  Has anyone ever come after you that way?  How would you feel about someone who did? 
What fears do you have about being unveiled and living in your glory?
PURIM is the Jewish holiday that celebrates the courageous Queen Esther, who waited to reveal her true identity until the moment when the power of YHWH could be displayed. This is your chance to bring your hidden self into the light.  Or if it's not the wild days of abandon before Lent or Halloween, just throw a costume party, inviting your guests to dress as their secret self.
Make a list of your dress-up possibilities.  Who would you really like to be?  Why?  Who would you not?  How would you pull it off anyway?
With a friend, make plaster cast masks of yourselves.  Decorate the face you'd like to hide behind.