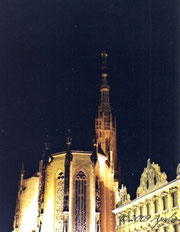 The 1991 journal continues from 4 October, heralding a visit from my parents.  Tim and I were thoroughly excited to share our enthusiasm of the German life, including the ease at which a BMW can reach optimum speed on the Autobahn, so away we went!
Of the Hotel Amberger (Ludwigstr. 17-21, Würzburg), I had this to report, "This is a great location, but not much more.  We've had pensions (cheap hotels) that were nicer than this.  But it was clean, and possibly a non-smoking room.  Vielen Dank für's Nichtrauchen."  Evidently, this policy had been instituted for our benefit, but the air quality of the room hadn't caught up with our standard.  I remember when this was typical in any hotel.  Sometimes, I get nostalgic for airplane smell, don't you?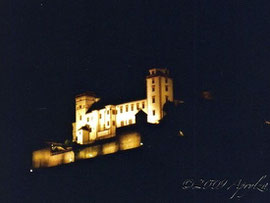 We walked to Juliusspital for dinner.  I asked for a table (in German) and was told (in German) "not until after 7:30pm."  I turned to consult my parents (in English) and were corrected (in English), "No, no, you can have the table UNTIL 7:30."  You're American?  Well, that changes everything!  Surely, all Americans eat and run. 
We took the table, but arrangements were made that permitted us to stay.  Ebenso, we finished our excellent dinner by 7:15!  I enjoyed a Frankisch Weinapfel mit Käse gefüllt. (That's a local apple baked with cheese in the center.)  Wow!  Tim had sunny-side eggs & ham.  Dad had VERY tender Schwiene (pork) something on toast.  Mother had the Ragout in a little pot.  We all had a dry white wine, and finished with cheese and fruit.  There's something to set you up for the night!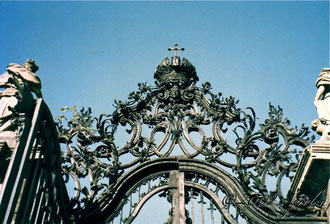 After breakfast at 8am the next morning, we headed for the Residenz  (the Royal Palace), took a walk around the gardens, visited the Hofkirche, and bought our tickets for the tour.  It was very crowded, and the large halls were so noisy!  We couldn't hear the tour guide for the first part of the tour because of the echoes in the large rooms.  Once we got into the smaller chambers, the guide was easier to understand.  This must've been quite a ruckus during the royal parties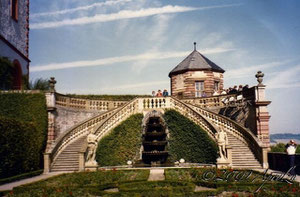 "Photos were taken of the Palace in 1943, and the furniture was removed to safer locations.  Good planning!  The town was almost totally destroyed in 1945.  It's been beautifully restored.  This is a great town to visit, but don't plan on finding a reasonably priced room."  Well, there you go:  Würzburg in a nutshell.
We went next to the Marienburg Fortress, and walked around the battlements.  There were great views, even on a hazy day.  And it's a wonderful place to hear the church bells at noon.