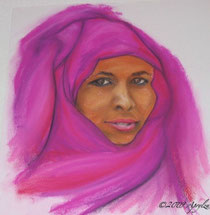 As you begin to unveil your glory, have you been pressured to return to your old self? Sometimes a personal change disrupts your relationships, and your family and friends might even go so far as to malign you or try to disgrace you.  Maybe you'll be told "we like you just the way you are" and "don't ever change." What do you do with that?  Is this different from how you would like to respond?
"Now if the ministry that brought death, which was engraved in letters on stone, came with glory, so that the Israelites could not look steadily at the face of Moses because of its glory, fading though it was, will not the ministry of the Spirit be even more glorious...Therefore, since we have such a hope, we are very bold.  We are not like Moses, who would put a veil over his face to keep the Israelites from gazing at it while the radiance was fading away…And we, who with unveiled faces all reflect the LORD's glory, are being transformed into His likeness with ever-increasing glory, which comes from the LORD, who is the Sprit."  2 Cor 3:7-8; 12-13; 18
His yoke is easy and His burden is light, but theirs isn't.  Your growing pains make them uncomfortable.  They can't help themselves but react.  Be strong and courageous.  Allow YHWH to unveil you for His glory.  He won't rush you.  He makes everything beautiful in its time.  (Ecc 3:11)  He is training you to do battle against this return to captivity.  What you need is the heart that is capable of loving despite the assaults.  This battle is the LORD's.  You be strong and courageous.  Your unveiling reveals your transformation, and your integrity is a confirmation that you trust in Him.
"Therefore, if anyone is in Christ, he is a new creation; the old has gone, the new has come!"              2 Cor 5:15
What does transformation feel like?  Are you living from your new self? Are you experiencing the glory of YHWH reflected in your life?  Have you identified your desire?  Do you pray about it?  He already knows your heart, and His desire is for you to bring your longings to Him.  Unveil your heart to Him before any others.

Here's an exercise called "iWant" that comes from Soul Pancake
Ask and ye shall receive. Or so we're told, right? Let's put this theory to the test.
Step 1. Write 5 things you really want on some scraps of paper.


Step 2. Get crafty. Take an interesting picture of your wantings. For example, staple them to your neighbor's cat (just kidding).

Step 3. Post a link to your photo [on their website.]