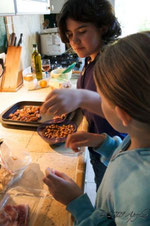 I apologize for not having a photo of the finished product.  They were gone before I could get my camera.  Therefore, you'll just have to try them for yourself.
Procure a quantity of fresh dates, preferably pitted, although slicing them open doesn't take long.
You'll also need as many whole almonds as you have dates,
…and air-dried ham or lean bacon in thin slices.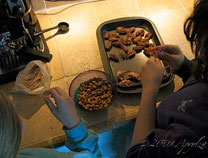 Pop an almond into each pitted date, wrap a slice of bacon around that, and secure it with a toothpick.
Bake 200°C (400°F) until the bacon sizzles, about 10 minutes.  You could broil them or fry them in a skillet instead, but I tend to burn them that way.  These could also be grilled, if you have the right pan for it.
So yummy!
Ordinarily, I don't eat pork.  I'm only in it for the laughs, really…
Bon appétit!
by
AprylZA
View other
Tripe Aprons