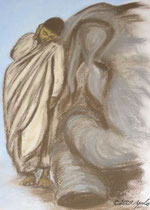 "Belief consists in accepting the affirmations of the soul; unbelief in denying them."  Ralph Waldo Emerson
Romans 7:18 (KJV) says, "For I know that in me dwelleth no good thing".  It's a well-known verse for many of us who have been brought-up in a Christian setting, and it implies that our lives on this earth are nothing but toil and despair.  But Paul intended for us to know the distinction between flesh and spirit. The 'flesh' refers to the old nature, the method of self-preservation that becomes unnecessary once we've been crucified with Christ.  That's the spiritual circumcision, and it opens our spirits to communion with God.
It's very convenient to the enemy that we are so easily distracted from the spiritual by our physical and emotional needs.
Ten ways I disrespect myself are…. Just as affirmations accentuate the positive and allow hope to enter your life, making the negative explicit can help you to exorcise it.
"Those who belong to Christ Jesus have crucified the sinful nature with its passions and desires."  Gal 5:24
What fruits of the flesh continue to spread their weeds in your life?  According to Galatians 5:24 and that pile of ashes from last week, what has happened to these things on your list?
This is not to say that you've become bland and passionless.  On the contrary, the passions of human nature lose their strength as the new reality begins to live.  It's similar to what happens after you've made the break from sugary foods, surprisingly, everything else becomes so much more flavorful.
Once you begin to uncover the exact nature of your shortcomings, you can confess them to YHWH and those you've wronged.  It's by taking the responsibility for the action that enables you to release the powerful grip that's choking your spirit.
Are you fighting your personal battle alone?  Ask YHWH to show you someone who can walk with you.  You are not alone.  You should not remain isolated.  That leaves you open for an easy attack.
"The law of the Spirit of life in Christ Jesus has made me free from the law of sin and death."           Ro 8:2, NKJV
The battle with sin is ongoing.  The 'flesh' must be crucified daily.  "For if you live according to the flesh you will die; but if by the Spirit you put to death the deeds of the [sinful nature], you will live." Rom 8:13, NKJV
"The sinful nature you battle is not who you really are."  John Eldredge