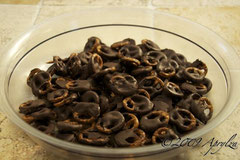 Hohoho, those holidays are just around the next corner!  Here's one way to be prepared:  dip stuff in chocolate…
Chocolate-Covered Pretzels
Melt in double boiler or for about 2 minutes in 500W microwave:
375 g (12 oz) semi-sweet chocolate
¼ C butter
Stir until smooth.  Dip: 4-dozen small pretzels
Chill on baking paper for about 1 hour until firm.
Candied Orange Peel
Cut into narrow strips:  peels of 2 large navel oranges
Cover with cold water and bring to boil.  Drain.
Repeat, cooking 4-5 times, until skins are very soft.
Combine in saucepan:
½  C white sugar                          
¼  C water
Add orange peel; simmer until syrup is absorbed into the peels. 
Let cool.
Toss to coat with white sugar or dip in melted chocolate. 
Place on baking paper to dry.
I'd rather be 40 than pregnant
by
AprylZA
design your own tshirts
at zazzle.com