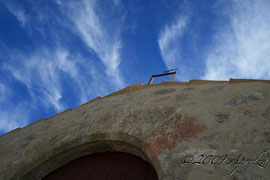 Is there anyone more generous than the Creator of the Universe? 
Could any author write a more fantastic story than the one that YHWH is writing for you?
How big is your God?
One of the major blocks to accepting YHWH's generosity is our limited understanding of what we are meant to accomplish.
You hear YWHW speaking to your heart, and either discount it as too incredible, or decide that it was your own selfish desire—what heresy!  Who are you to tell the Potter what kind of bowl you might be?   (Isa 45:9-10)  Conversely, how can you be sure it's His voice that's directing you?
It's possible to be so overwhelmed by the enormity of the task that you forget, that with God's help, all things are possible.  Ask Noah (Gen 6-9), Moses (Ex 3:11; 4:10, 13), David (2 Sam 7:18-19), Gideon (Ju 6-8), Abraham (Gen 12-25), Joshua (Jos 1:9), Elijah (1 Ki 19:3-4), Jeremiah (Jer 1:6)…
Most of us never really consider how all mighty powerful YHWH is. He was doing some pretty unbelievable things 4000 years ago, so now He's on sabbatical, and someday we'll join in His retirement party (commonly referred to as 'the wedding feast.')
Consider Matt 25:14-30.
He is no Sugar Daddy god.  He is just and pure, therefore we are right to fear Him.  Those He loves, He corrects.  (You may need to review your definition of 'correction' and 'discipline.'  Does this bring up any old wounds?)
Remember that He is the Good Shepherd.  His rod and His staff will comfort you.  Have a good long look at those deep desires of yours.  Talk it over with Him.  Listen courageously.  What false self have you substituted for your true glory?  What will you be?  Could Isaiah 62 been written for you?
The Voice of the Mastering Wonder (on Gen 32:2) from Oswald Chambers says, "The sight of the two hosts, the earthly and the heavenly, is a fitting revelation of God's rule and government in this order of things.  So few of us see the hosts of God because we have never let go of things as they are, never let go of our small parochial notions, of the sense of our own rightness and respectability; consequently there is no room for God at all.  Beware of the abortion of God's grace that prostitutes the Holy Spirit to the personal, private use of our own purity, instead of allowing God by His majestic grace to keep us loyal to His character in spite of everything that transpires.  Faith in God does not mean that He presents us as museum specimens, but it does mean that however ignoble we may feel, we remain true to God's character no matter what perplexities may rage.
            "God's angelic hosts are like His visible mercies—countless.  We are economically drunk nowadays.  Everybody is an economist; consequently we imagine that God is economical.  Think of God in creation!  Think of the number of trees and the blades of grass and flowers, the extravagant wealth of beauty no one ever sees!  Think of the sunrises and sunsets we never look at!  God is lavish in every degree.  For God's sake, don't be economical!"
If God is really as big and powerful and loving than you can possibly imagine, what unbelievable supernatural phenomena might He do on your behalf?