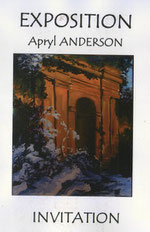 In the spring of 2002, the change in Tim's contract changed everything for me.  After spending two years in the 11th of our rented homes, we decided that we were finally in the right time and place to invest in our house of our own.
We didn't favor any particular aixois community.  It was merely a question of Tim's accessibility to the airport and a quiet retreat for this return.  So, we were delighted to find a home with much potential—a euphemistic real estate agent's term meaning, "this place needs a lot of work."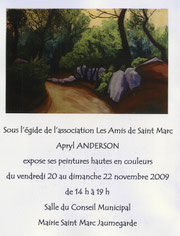 What I didn't expect to find was the untapped potential of my own creative expression.  At that point, my life was relegated to child rearing and home management.  Artistic bend has a way of expressing itself, or perhaps it's impossible to contain.  It was only a matter of time and perseverance that cooking, cleaning, sewing, knitting, playing at children's crafts and church organization became a full-time pursuit of the fine arts.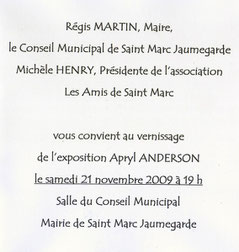 It is with extreme gratitude that I am exposing a selection of my recent works in the St Marc Jaumegarde council chambers.
The invitation reads, "Sous l'égide d'association Les Amis de St Marc, Apryl Anderson expose ses peintures hautes en couleurs du vendredi 20 au dimanche 22 novembre 2009, de 14 h a 19 h, Salle de Conseil Municipale, Mairie de Saint Marc Jaumegarde."
Vernissage Saturday 7pm/ samedi 19h00.
Translated, this reads, "Under the tutelage of the Association of the Friends of St Marc, Apryl Anderson will be exposing her color-filled works, Friday through Sunday, 20-22 November, 2009, from 2-7pm, in the Municipal Counsel Hall of Saint Marc Jaumegarde."


This is a community that truly cares for fellowship and our natural surroundings.  The renowned beauty of Provence is encouraged to thrive here, therefore the paintings on display are a tribute to our treasures.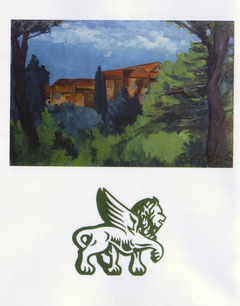 It gives me great joy to live in a place where I am inspired with fresh air and a marvelous view of the changing seasons.  Paul Cézanne made a lifelong study of the nearby Mount Sainte Victoire, and she is a remarkable mirror of the eternally vibrant light and atmosphere of this place, much as our own lives are subject to an ebb and flow. 
I can't help but echo this spirit of exploration and discovery.  Please join me on this stage of my journey in creation.
You can RSVP to the facebook event here.
This is a link to the Saint Marc Jaumegarde community website.
And a link to my paintings.