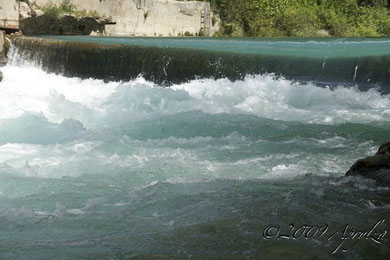 For stunningly beautiful rushing water, the spring of Vaucluse is not to be missed.  Be prepared to stroll along a gently winding path with a few or a few hundred tourists into the closed valley, (literally 'Vaucluse'), to arrive at the foot of a tall cliff.  If you choose to ignore the 'interdit' warning, and climb the fence, there's a much better view of the steeply sloping basin that is the source of the Sorgue River.
The depth was a mystery, unsolved until 1985, but I doubt the knowledge led to the demise of the cult that worshipped here since Antiquity.  It's said that archaeologists have retrieved more than 1600 coins dating from the 1st century BC to the 5th century AD.  You can find more details and statistics, as well as other interesting links, on the wikipedia site.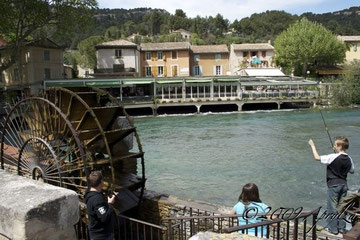 As well as the natural wonder, la Fontaine de Vaucluse offers an interesting selection of museums including:  a history of the Resistance movement, Musée d'Histoire 1939-1945; a crime and torture museum, Musée Historique de la Justice et des Châtiments; speleology, le Monde Souterrain de Norber Casteret; the home of Pétrarque from 1337-1353 while he wrote verses of his immortal beloved, Laura, the wife of Huges de Sade; a reconstructed mill on the site of the one that operated from 1522 to 1968, le Moulin à Papier, now with boutique and art gallery; to name a few.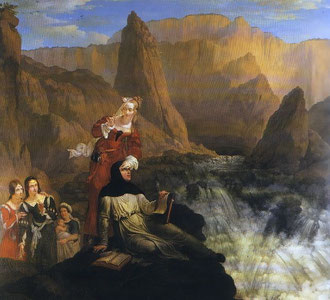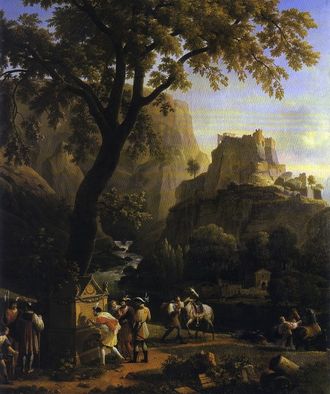 It's no wonder he pined for her, really.
And unlike François I, you won't find yourself closed out of the only snack shop in town.  There's a wide assortment of eating opportunities in all price ranges.
Fontaine de Vaucluse is 21km south-east of Carpentras, as about 7km east of L'Isle-sur-la-Sorgue, also well-known tourist destination, especially if you like to invest your funds in antiques.
the Sorgue River at Fontaine de Vaucluse
by
AprylZA
View other
Provence Posters
la Fontaine de Vaucluse
by
AprylZA
See all the
posters
on zazzle
the Sorgue River at Fontaine de Vaucluse
by
AprylZA
See other
Provence Mugs