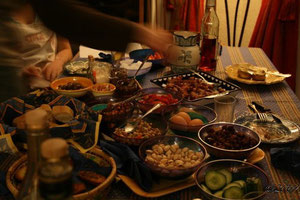 The pleasures of the Provençal meal are renown.  It's more than just great cooking, although that can't be denied!  It's the deliberate choice of the freshest ingredients, skilled preparation, perfectly balanced tastes and textures, and above all it's a gathering of intentional conviviality. 
Mealtime conversation offers a world of new understanding—especially if you're learning to communicate in another language.  That's why I fully appreciate a French dinner.  I keep my ears open, and my mouth busy eating!
Occasionally, we'll gather for drinks.  It's not intended for a meal, but we don't want to saturate an empty stomach with alcohol.  With a generous selection of snacks, your guests will find their tongues loosened and their tummies full.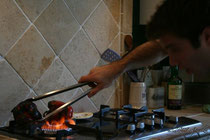 Assemble small plates and bowls of sliced cucumber, carrots & celery, pistachios or almonds, olives, dried tomatoes, chèvre (goat cheese), stuffed mushrooms, anchoide, tapanade (I'll include those recipes later)…
Poivrons grillées  (Grilled Peppers)
Char the skins of 6 Bell peppers (Capsicum) either over a flame or in the grill
Peel and slice into strips, discarding pith and seeds; then marinate for at least 20 minutes in:
2 T butter
2 T olive oil
1-2 crushed cloves garlic
[1 t herbs de Provence or crushed dried chili pepper]
Instead of grilling, you can slice and sauté in the butter and oil until tender.
des Poivrons Rouges
by
AprylZA
View all the other
artwork
at zazzle