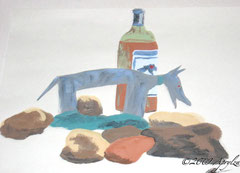 Has any of my life been anything but by my own effort? Is there any room for the hand of God to move in my life?  Have I made any allowance for the supernatural in a manmade world?
Can you identify a fallen idol that could be blocking the flow?  Are you looking for praise, acclaim, or confirmation from the world?  Remember that any attempt to be part of the 'in' crowd will usually result in damming the Source. 
What is your most effective block?  Name it.  Draw a cartoon of yourself indulging in it.  Name the benefits for staying stuck.  Use your journal to blame the one who blocks you.  Tell yourself the truth without condemning.
Read 2 Peter 1:3-11.
Start a scrapbook for the mementos of your progress:  "Practicing"…"This canvas is the start"… "Our dress rehearsal"…. Write the captions as an honoring progress report.
"When we take time and attention to focus on our progress, we see what progress has already been made."  Julia Cameron 
You do matter.  You are named.
"Whatever you think you can do or believe you can do, begin it.  Action has magic, grace and power in it."  Göthe
"A man who has not passed through the inferno of his passions has never overcome them."  Carl Gustav Jung, Memories, Dreams, Reflections (1962), ch 9
"That is why living from your glory is the only loving thing to do.  You cannot love another person from a false self.  You cannot love another while you are still in hiding.  How can you help them to freedom while you yourself remain captive?" John Eldredge, Waking the Dead
"It is within my power either to serve God or not to serve Him.  Serving Him, I add to my own good and the good of the whole world.  Not serving Him, I forfeit my own good and deprive the world of that good, which was in my power to create." Leo Tolstoy