The annual Anglophone in Aix event, organized by the International Christian Community of Provence (ICCP), is now preparing for its 2009 edition.
This traditional English and American Christmas carol sing has gained a loyal following, growing larger as the local French and expatriate communities are enchanted by the warm fellowship and the spirit of the holiday season.
The Sunday, 6 December, event in the cathedral St Sauveur in Aix-en-Provence, begins with a prelude at 15h30 (3:30pm), with the concert (involving much audience participation) beginning at 16h00 (4pm), and culminating one hour later with a candle-lighting ceremony.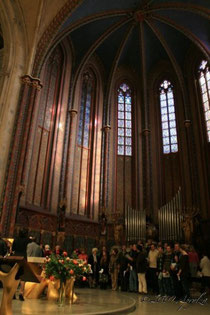 CAROL Choir:
This choir leads the audience in song- 10 traditional Christmas carols all sung in English.  Please come to two rehearsals (and of course, the mandatory Dress Rehearsal on Saturday).
PRELUDE Gospel Choir:
Before the actual concert begins, as people are finding their seats, this group performs several pieces in front of the audience.  It is important to come to as many rehearsals as you can so that you feel confident with the songs- which consist of awesome gospel music!!
Childrens' Handbell Choir:
This year we will be having the children ring little colored bells as they sing a few songs during the middle of the concert.  The children are always the biggest hit of the night!  If you are not sure if your child's age is appropriate to participate in this choir, then I suggest they come and try one rehearsal and then we can see if it's a good fit for them.  We've had 3 year olds up through 15 year olds in this group in the past.
*It is not a requirement to be a good singer…Everyone is welcome!
 Feel free to invite your friends to come along…
the more the merrier!
Ushers are also requested, and you can get involved by contacting ICCP at 04.42.21.55.31 or by email iccpaix@gmail.com
Carol Choir                      Prelude Gospel Choir                 Kids Handbell Choir 
Nov. 21, Sat: 2-3pm        Nov. 21, Sat: 3-4pm        
 Nov. 24, Tuesday: 6-7:30pm      Nov. 24, Tuesday: 5-6pm
Nov. 28, Sat: 2-3pm       Nov. 26, Thursday: 6-7:30pm    Nov. 28, Sat: 10:30-11:30am
Dec. 1, Tuesday: 6-7pm        Dec. 1, Tuesday: 7-8pm       Dec. 1, Tuesday: 5-6pm
Dec. 3, Thursday: 6-7pm      Dec. 3, Thursday: 7-8pm      Dec. 3, Thursday: 5-6pm    
ALL rehearsals will take place in the sanctuary at 9 Rue de la Masse.
Mandatory Dress Rehearsal for everyone (including kids)
held in the Cathedral on Dec. 5, Saturday evening
(arrival times vary with each choir- info coming soon)
Look how much fun practice is…
And on the day, watch & listen how the rocks cry out
2007 included the children's choir singing at a local nursing home
Here's why it's fun to let professionals do a number or two…