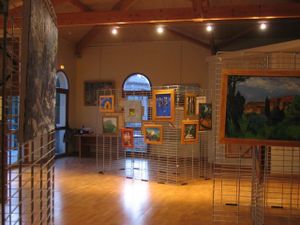 Everybody's got his reasons for wanting to be successful.  My list is long, and I admit that running out of wall space for my paintings was not the number one incentive.  Desperately needing to be a contributing member of the household had a lot to do with it, and being the only one at home left all of the deadly dull tasks to me.  Therefore, it was eat or be eaten, so I headed out with a fork.
Where would I go?  What would I do?  How could I find something that was flexible enough to allow me to be available for my children?  I was overwhelmed with the realization of how much I didn't know.
That's why I've written this brief article in praise of Ariane Goodwin's smARTist teleconference.  So many people have asked me how they can start making money with their creations that this is too important not to share.  Her goal-setting guidelines and informative talks by other professionals gave me a year's worth of formative insight. 
THE RECORDINGS ARE AVAILABLE NOW!  You can learn more here.
smARTist™ Telesummit
Want to know more?
As you may have heard, the smARTist® Telesummit wrapped up its extraordinary 2010 event in January, leaving artists in awe as they forged on to build their careers high on the wings the inspiration and excitement of the 11 art-career experts. If you are like me, hearing the news of this event being over, sent me into a tailspin — but before your body begins to fill with feelings of disappointment — hold up! Ariane from smARTist just announced her Telesummit Home-Study Edition! Now you too can experience the power of focused direction and life changing skills.
 
Drum roll please...
 
Introducing the all-new, 4th annual smARTist Telesummit 2010 Home-Study Edition!
 
You can listen to the audio download and CDs (also read the written transcripts!) for all 7 days, with 11 Keynote Speakers, who gave 14 presentations... any time — at your convenience — as often as you want.
 
You'll zero in on the details you need to move your career forward, learning from our art-career experts and successful artists exactly what it takes to break the starving artist mold and be successful (in any economy)—with focus & facts supporting your Fabulous Art.
 
Do you want your artwork in the world - and in a BIG way? I know you want to be a full time artist, but you're not sure where to start, right? You have lots of amazing ideas... but need a little guidance, I'm sure of it. So if this sounds like you... then this Home-Study Edition Is For YOU.
 
Yep - YOU!
 
Read here to find out more about how you can get started. TODAY!
 
The smARTist Telesummit was a HUGE success... and I know that this home-study course will be too. Get in on it while it's hot and while you still have time. If you sign up now, use this 30SMARTIST coupon code and save $30!