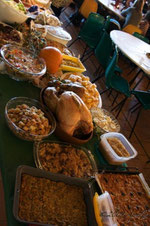 One of the many delightful elements of belonging to a joyful worship community is our propensity for throwing big parties.  We have a lot to celebrate, because the more difficult life becomes, the more clearly we see where and how to give thanks.
Take the French respect and admiration for a perfect meal, add the American art of pot-luck, and a universal longing to connect, and you've got the ICCP Thanksgiving dinner.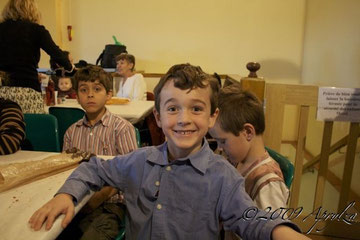 You are invited to a traditional THANKSGIVING meal.  
Sunday November 29th 4pm 
Le Chemin (Protestant Church): 19 Bd Jean Jaurès, Aix
*Please RSVP with the number of people that are coming* 
**Please bring either a savory or sweet dish that feeds 10-12 people, as well as a drink for you and your family.  For ideas of traditional Thanksgiving food, you can go here: Thanksgiving Dinner However, you can bring something from your own country too! ** 
Come one, come all! Invite your friends!
Vous êtes invités au repas traditionnel de THANKSGIVING. 
dimanche le 29 Novembre a 16h
Le Chemin (l'Église Protestante): 19 Bd Jean Jaurès, Aix
*Veuillez répondre avec le numero de personnes qui viennent*
**Veuillez apporter un sucré ou un salé pour 10-12 personnes, et une boisson pour vous et votre famille.  Vous pouvez trouver les plats typiques de Thanksgiving ici:
Mais, vous pouvez aussi apporter les plats traditionnel de votre pays**
Venez tous! Invitez vos amis!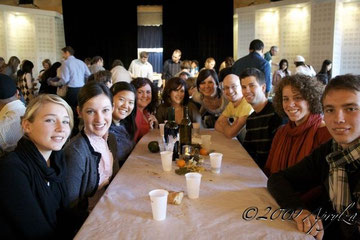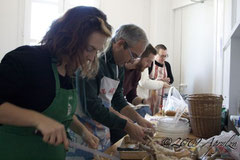 This means YOU, too, so if you're in a bind about what to bring, here's a sample from the table of my PA Dutch family feasts, not forgetting to add corn, green beans or Succotash (lima beans & corn), and fruit salad.  I have a feeling that I'm forgetting something…
Applesauce
Core & grate:
         2 cooking apples
Cook, covered, until tender, about 7 min with:
         2 T lemon or orange juice        
         2 t honey or sugar or (maple syrup!)
Sprinkle with cinnamon & serve.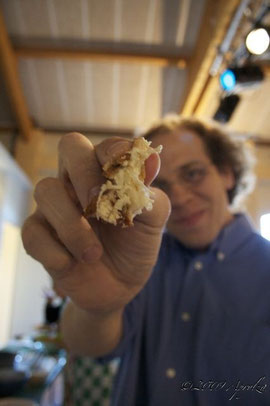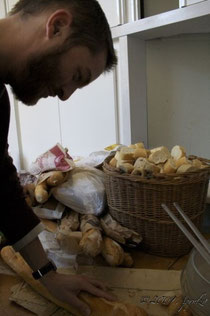 Aunt Linda's Creamy Coleslaw
Shred:
         1 head white cabbage
Sprinkle with:
         1 t salt
Let drain for 1 hour or more; squeeze off salt water.
Blend:
         1/4 C cider vinegar        
         1/4 C evaporated milk
         1/4 C water           1 C sugar
         2 T mayonnaise
Toss with cabbage and:
         1-2 grated carrots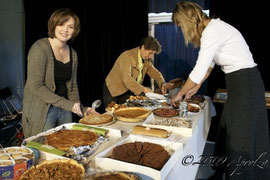 Craley Cranberry Relish
Chop together:
         600 g (4 C) cranberries        
         3 peeled & seeded oranges
         1 C sugar
[A non-Craley addition:
         1 C chopped walnuts                
         1 chopped apple]
Let set a day in refrigerator.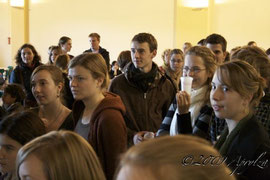 Puréed Potatoes
Peel & cook:
         1 kg peeled potatoes
Mash while hot.  Beat in:
         2 T butter                          
         [100 g grated cheese]
         250 ml (1 C) milk*                 
         [nutmeg or dill]
* A variation that will change this dish entirely is to steep a generous pinch of saffron strands in the hot milk for about 15 minutes before adding to the purée.  And so would an addition of prepared mustard rather than saffron.
...Or why not cook other root vegetables rather than just potatoes?  Carrots or beetroots make a beautiful accompaniment to a roast and green vegetables.  Start a new tradition!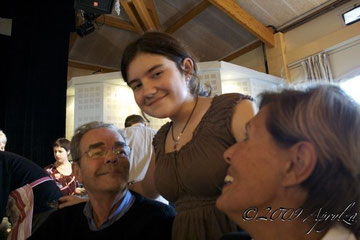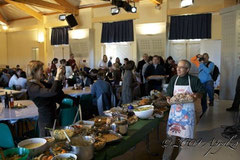 Baked Sweet Potatoes*for 8-10
Layer in casserole:
         6 cooked & sliced sweet potatoes
         4 peeled & sliced cooking apples
Sprinkle with:
         1/2 C brown sugar         1/2 t salt
         1/3 C butter
Bake 180ºF/350ºC for about 30 minutes.
*Or bake as normal white potatoes; serve in their shells with butter (and chilies)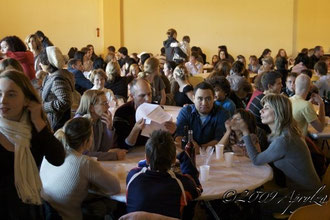 Stuffing for 10-12
Cover & let stand for 30 min:
         1 kg cubed stale bread (day-old baguettes sont manifiques!)
         1-1/2 litre (6 C) hot milk (let a cup of that be white wine)
Meanwhile, sauté:
         125 g (1/2 C) butter        
         2 or more pressed cloves garlic
         4 minced onions                 
         salt & pepper
Beat together:
         12 eggs                          
         1 t paprika
Combine all ingredients with:
         1 minced bunch parsley
The quantities really don't matter here.  You don't want it to be too dry or too gloppy, but there's a lot of freedom here.  After 5 hours in those French turkey drippings, it's going to be ooh, la la, anyway!
Spread in greased casserole or stuff poultry* or boil as dumplings or
Bake 200ºC/400ºF for 30-40 min.
*Don't think you're making any clever shortcuts by stuffing the turkey the night before you bake it.  That's food poisoning just waiting to happen!  Please prepare the filling ("fiwwin" as my York County people say) just before you cook the bird.  It's all about the fresh eggs going back into the chicken, you know.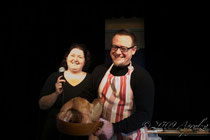 Colonial American Cornbread
Beat together:
         150 g (1 C) buttermilk, yogurt or milk                 
         2 T melted butter                          
         1 egg
         2-4 T honey OR 75 g (1/4 C) sugar
Combine; then mix in:
         125 g (3/4 C) corn meal                 
         1/2 t baking soda
         125 g (3/4 C) white flour        
         1/4 t salt
         2 t baking powder
Spread in greased skillet, pie plate or muffin cups.
Bake 190ºC (375ºF) until golden, 20 minutes for muffins; 30 minutes for bread.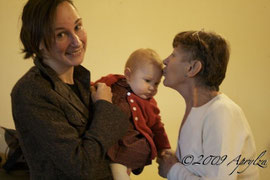 Aunt Etta's Gingerbread
Sift together:
         600 g (4-1/2 C) flour        
1 t ground ginger
         1 C sugar                          
1 t ground nutmeg
         2 t baking soda                 
1 t ground allspice
         2 t ground cinnamon        
1 t ground clove
         1/2 t salt
Cut in:
         250 g (1 C) butter or lard
Set aside 1/2 C for crumb topping.  To the rest, add:
         2 eggs                           1/2 C dark molasses
         2 C buttermilk
Spread in greased 9" x 13" baking pan.  Sprinkle with reserved crumbs.
Bake 180ºC (350ºF) for 45 minutes.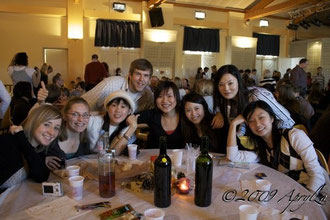 Nana Craley's Pumpkin Pie
Combine:
         1 C cooked, mashed pumpkin
         250 ml (1 C) milk         
         1 t vanilla
         1/2 C sugar                  
         1 t ground cinnamon
         1 T flour                       
          1/4 t ground ginger
         1/4 t salt                      
         1/4 t ground nutmeg
         2 eggs                          
         1/4 t ground clove
Pour into pie shell.
Bake 180ºC (350ºF) for 50 minutes.
The Official Invitation flyer
…if you'd like to pass the word to your internetless friends.
Thanksgiving Flyer.pdf
Adobe Acrobat Document
289.9 KB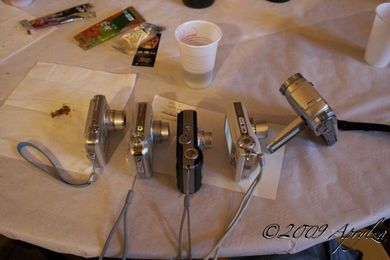 the Mediterranean Chef
by
AprylZA
Browse
Italian Aprons