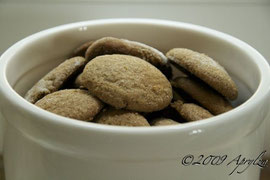 There's a ferocious wind blowing outside and it chills me to the core.  What's the best cure for this ailment?  A hot cuppa and a good book!
I'm so grateful for a childhood with a large space to run, and loving elderly aunts in every direction.  Aunt Elsie invited me to enjoy her enormous library, and that's where I passed many contented Saturday afternoons. She had a remarkable way of caring about my life at the same time that she shared her own.  If only her stories would have been captured in a book, I would build my own library around her long life and sweet spirit.
So, I console myself with her gingersnap recipe…
Combine until smooth:
250 g (1 C) soft butter
250 g (1 C) white sugar
Mix in:
250 g (1 C) dark molasses
125 g (1/2 C) water
600 g (3 C) flour
1 t powdered ginger
1 t ground cinnamon
Work into a smooth dough, adding more flour if needed for a still dough.
Roll into small balls; roll through white sugar, flatten slightly on ungreased baking sheets.
Bake 200°C (400°F) for 9-12 minutes.
Believe in the Extraordinary!
by
AprylZA
Large format poster printing
from zazzle