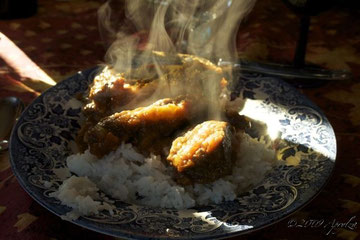 There's only one way to prepare the classic Italian stewed beef with marrowbone, but I'm never quite sure what ingredients are going to turn up in my kitchen.  The carnivores in this house cry out for a hot meaty meal on cold winter days.  What to do, what to do?
For the 4 of us, I buy 1 kg (2 lbs) stewing beef, with marrowbone if available
Marinate, chilled, for up to 3 days in:
3 crushed cloves garlic
4 sprigs rosemary 
small bunch thyme (use 1 T dried herbs if you don't have fresh)
2 bay leaves
1 T peppercorns
red wine to cover
Preheat oven to 180°C (350°F).
Combine meat, marinade; sprinkle with:
1 T flour
And add:
2-3 chopped onions
2 chopped carrots
2-3 chopped tomatoes or 400 g can chopped
2 T olive oil
[olives]
Cover and cook for 1 hour, or longer at a lower temperature for more tender, flavorful stew.
Serve with rice, baked potatoes or tagliatelle pasta, and red wine.
Hot Stuff!
by
AprylZA
Create
custom aprons
with zazzle