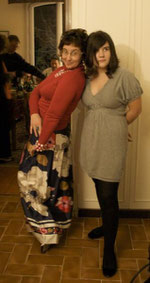 I summoned the courage to stand on the scales this morning, and the numbers confirmed what the fit of my clothes suggested.  We ate well during these holidays, and caught up on our restful repose lost during months of stressful living.  In other words:  fat and lazy, jolly good tidings.
Are any of us truly motivated for change when we see those blubbery tummy ads?  Perde 6 kgs!  What does €25 buy but a lighter wallet?  Surely, there's got to be a better way!
You know it, too, don't you?

 

Less food, more exercise…and how am I going to make that happen?

 

That's what the theme of this weekly series will cover.
I'll start with a goal, and then share the small steps that will direct me to the finish.  This isn't the first time I've seen my optimum weight come and go.  I was running every morning in 2007, and consequently looking and feeling my best.  What happened?  What causes me to slip back into complacency?  I need to explore these uncomfortable elements, as well.  This isn't only about looking like a fashion model.  Instead, it has everything to do with fitting perfectly inside my skin.
The scales told me that I've arrived at 58kg again, and it's an ugly squeeze into my size 38 jeans. My goal is to drop 10kg and get back into 14 years.  For a 153cm frame, that's not unreasonable.  I don't care how long it takes, because I'm going for lasting change…this time.
Everyone goes back to work and school tomorrow, so today is officially Mustgoes at every meal.  [You can find Mustgo menus here.]
I will start my day with a Cleanse.  Not that I'm looking forward to that.  It'll be touch and go to see if the solution reaches the point of no return.  My gag reflexes are on high alert with that one.  For those of you determined enough to attempt it, I give you:
The Colin Flush:  to be taken as quickly as possible before eating or drinking anything upon rising.
Dissolve:
            375 ml (1 ¾ C) boiling water
            4 t sea salt
Stir in:
            ¼ C lemon juice
            500 ml (2 C) cold water
Don't stray far from the toilet for about 1 hour after consuming this potion.  I kid you not.  You have been warned.
Speaking of warning, DO NOT attempt any of this without proper medical supervision!!!  I don't want to hear that any of you are putting your body in danger while we're intending to get ourselves into optimum condition.
The point of the Cleanse is to rid the body of accumulated garbage in the system.  I've had the most amazingly delicious meals—ah, a belle France—alas, the flavor of fresh foods enriched with pure animal fat are dragging me down.  Therefore, out they go!  If I can manage one morning of lukewarm salt water, then I'll be pleased.  I don't think I want to do 3 days this time, although it certainly helped to clear me of the gall bladder attacks 3 years ago. 
If you want to Go The Works, add this dose before bed:  dissolve 1 T Epsom salts in 1 C cool water.
Also, I'll be using this as a salad dressing:
2 T lemon juice
1 T pure maple syrup
¼ t ground cayenne pepper
Add 240ml (8oz) mineral water, if you want to drink it instead.  8-12 glasses per day are said to keep the hunger pains away.
I'll be cutting starches from my diet, and eating plenty of fruits, vegetables and proteins.  For exercise, I'm determined to take a 20-minute break every day, either to walk or for yoga stretching.  You can read more about all of this in the coming weeks.  Are you with me?
Bon courage à tous!