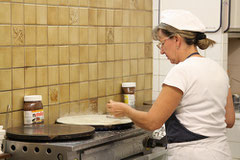 An Englishman an Irishman and a Scotsman were in a pub, talking about their sons.
"My son was born on St George's Day," commented the Englishman. "So we obviously decided to call him George."
"That's a real coincidence," remarked the Scot. "My son was born on St Andrew's Day, so obviously we decided to call him Andrew."
"That's incredible, what a coincidence," said the Irishman. "Exactly the same thing happened with my son Pancake."
French Crêpes or English Pancakes or German Pfankuchen
to serve 2-3
Whisk in a bowl until smooth:
         115 g (1 C) flour                              2 t melted butter
         2 eggs                                             pinch salt
         300 ml (1-1/3C) milk
You might want to add grated orange or lemon zest, or 2 T sesame seeds…or something clever that takes your fancy.
It's not necessary to let the batter stand for 30 min, but you can prepare it in advance and store it in the fridge for up to 24 hours.
Heat your pan until a bit of butter sizzles, but doesn't burn.  You'll appreciate a non-stick pan with sloping sides.  An omelet pan will do. Always heat the pan very hot before pouring in the batter.  If the first pancake sticks, it's because the pan wasn't hot enough.  Fry until the crêpe can be turned easily, then fry the other side until golden.
Ladle the batter onto you hot pan, and fry in thin layer.  
Toss & brown other side.  (That's the fun part.  Get some practice, and show-off to your friends.)
Or you can bake it in a greased pan at 200ºC (400°F) for 30 min.
Savory crêpes are a specialty of Brittany, so serve them with sparkling cider.
Top savory crêpes with crème fraîche (sour cream); cheese & tomato with herb; spinach & nutmeg-white sauce; sautéed mushrooms with sage and cream; chestnut-white wine cream sauce; fresh steamed or stir-fried vegetables; Ratatouille & cheese; Vegemite & butter; grilled capsicum & goat cheese; enchilada fillings; Brie or Camembert with red fruit conserve and toasted walnuts; Pancetta, mozzarella di bufala and fresh roquette; "Crespelli agli asparagi" steamed asparagus with a Parmesan white sauce....
OR sweet crêpes with sugar & lemon juice; fromage frais & jam; fresh berries & Ricotta or custard; stewed apples & mixed spice; brown sugar & cinnamon; banana & honey; chopped nuts; poppy seed, orange juice & honey; Nutella or chocolate sauce
Bon appétit!
by
AprylZA
Create your own
aprons
at zazzle.com