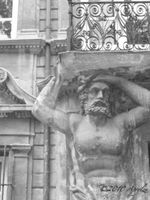 Those of you who have been following my spiritual development study will have noticed that I've not put up any new chapters for awhile.  That's because it's time for me to get serious about writing my book proposal.  Soon, you'll see an online synopis and why this is the best creative resource book, and why there's no one better suited to writing it.  There are now links to sample chapters--that's how I discovered that I missed part 7 of the introduction.  It's pretty challenging stuff, too, so I dare you to join me!
Whatever the drug of choice, we dull our senses because we're addicted to captivity…the addiction controls the controller

The word, 'addiction' comes from the 16th century meaning 'bound or devoted.'  What is your addiction? 
   
The fixation distracts, distorts and dulls the mind to the reality that the life is out of control.  It's ironic that the one who is so utterly devoted to something is usually the last person to recognize it.
In the attempt to control a person (or people), events or things, the habit will ultimately take control of the controller.
   
Paradoxically, the object of abuse does not cause the addiction; rather, it's the deep inner hunger that causes us to manipulate the external to satisfy the internal.
   
Until you can identify the source of your addiction, you will be captivated and held captive by it.  You will continue to alter your reality by manipulating your surroundings.  The problem is not with the person, the food, drink, you name it; the problem is the inner emptiness, whether or not you're ready to realize it.  Until then, you will continue to feed your body and starve your soul.

Saint Augustine said, "You have made us for yourself, O Lord, and our heart is restless until it rests in you."

These are more than just religious words of comfort.  They are a call and a challenge.  Likewise, the following seeds for change:
    Ideas and visions are exotic flowers that deserve cultivation.
    Seeking personal and creative growth is a personal endeavor.
    Aiding others in healthy growth is a privilege and a blessing.
    Generosity feeds transformative growth, while competition and isolation cause creativity to whither and die.
    The good of another never cancels your own.
    Creative growth requires both birth and death for cultivation, but in this case, death results in rebirth.
    Constructive criticism is intended to encouraging strengths, and feed a person's creativity by giving a support structure—not to highlight weakness. 

"Two are better than one, because they have a good return for their work:  If one falls down, his friend can help him up.  But pity the man who falls and has no one to help him up!  Also, if two lie down together, they will keep warm.  But how can one keep warm alone?  Though one may be overpowered, two can defend themselves.  A cord of three strands is not quickly broken."  Ecclesiastes 4:9-12
    Do you know anyone who would be willing to begin this journey with you?