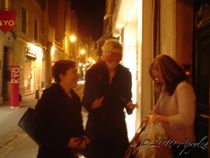 What do you do when your friend's birthday is 14 February, and nobody thought soon enough to make reservations at her favorite fondue place?  Well, you blindfold her, and take her on a long drive in the country to your very own pantomime restaurant.  It's happiness and fun for all!  Now you can try this at home…
Classic Swiss Fondue  for 10
Rub the inside of heavy saucepan with the cut surface of a garlic clove
Pour in:
         500 ml (2 C) Sauterne; dry white or rosé wine
         1 t lemon juice--helps to melt cheese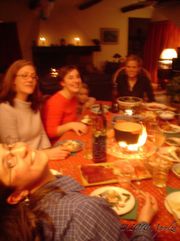 Warm gently until air bubbles rise & cover the surface--don't cover pot or boil the wine—keep the heat low, especially when adding cheese…Gradually add, stirring constantly in a figure-8 motion with a non-metal spoon:
         250 g cubed Gruyère        
         750 g cubed Emmentaler (Swiss)
Whisk together:
         1/4 C Kirsh or dry sherry        
         2 t cornstarch
Stir into melted cheese with:
         1/4 t grated nutmeg                 
         dash ground black pepper
         [2 T curry powder or 1 T mustard]
Transfer to fondue pot and keep warm.
Serve with stale bread cubes, pickled gherkins & onions, olives, salami/ham/meat slices, small boiled unpeeled potatoes, chutneys and salad.
Near the end of the fondue--when the bottom of the pot comes into view--stir in an egg or two; cook & stir, keep dipping bread.  This will keep the cheese from sticking to the bottom of the pot.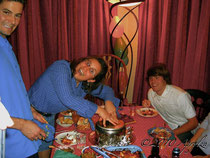 And for dessert…
After-Eight Fondue
Stir & heat gently until smooth:
         300 g (8 oz) After-Eight mints
         200 ml (1/2 C) cream
Serve with fresh fruit, cake & biscuits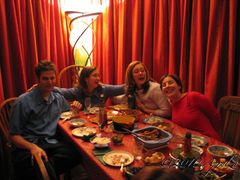 Daniel's White Chocolate Fondue
Stir & heat gently until smooth:
         400 g white chocolate                 
         1/4 C amaretto
         200 ml cream
Serve with fresh fruit, cake & biscuits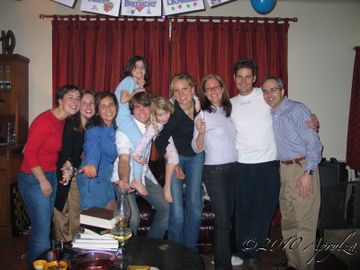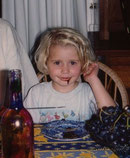 Girls'-Night-In Chocolate Fondue
Stir & heat gently until smooth:
         300 g (8oz) rich dark chocolate
         200 ml (1/2 C) cream                 
         1/4 C your favorite liqueur--I like raspberry Schnapps