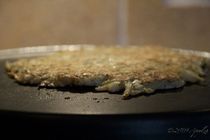 These are German comfort food for when the nights are cold.  Gemütlich!
Combine in bowl:
            1 kg grated potatoes—don't peel them if the skins are good
            1 peeled and grated onion
            2 beaten eggs
            30g (¼ C) flour
            S & P
Heat oil in skillet; drop batter by spoonful, spread it thin, and fry until golden; turn and fry other side.  You want your pan to be hot, but not so much that you burn the outside while the inside stays raw.  Similar to crêpes and crumpets, this takes some practice.
Serve with applesauce, crème fraîche or ketchup, and a green salad.  A chilled cider is delicious, as is a real German beer.