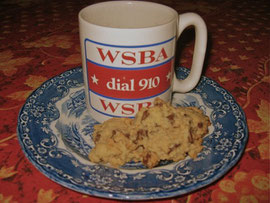 You're on a diet, so cookies are out of the question, right?  Not necessarily!  It's better to eat a small portion of something nutritious when you're hungry rather than starve now and gorge later.  Be sensible, eat right, and you don't have to ruin your figure.

Beat until creamy:
250 g (1 C) butter           
2 eggs
100 g peanut butter       
1 t vanilla
125 g (1/2 C) brown sugar
Add:
    200 g (1-1/2 C) flour        1 t baking soda
    200 g (2 C) oat flakes        ½ t salt

Mix in:
    250 g (1 ½ C) chocolate chips
    125 g (1 C) chopped nuts
    125 g (1 C) raisins

Drop by spoonful onto greased cookie sheets; flatten cookies slightly—they don't spread while baking.
Bake 190°C (375°F) for 10 minutes.
American Chocolate Chip Cookies
Blend:
         250 g (1 C) butter                     100 g (3/4 C) brown sugar
         150 g (3/4 C) white sugar         1 t vanilla
Beat in:
         2 eggs
Gradually add:
         350 g (2-1/2 C) flour                  1 t salt
         1 t baking soda
Stir in:
         350 g (2 C) chocolate chips         [1 C chopped walnuts]
Drop by spoonful on to ungreased baking sheets
Bake 190º C (375ºF; gas 5) for 9-11 minutes
I'd rather be 40 than pregnant
by
AprylZA
Join one of the biggest
artist affiliate programs