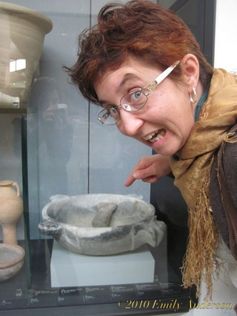 As soon as I saw Julia Child's mortar & pestle in the film Julie & Julia, I coveted one for myself.  You'd think they'd be fairly easy to come by here in Aix, but I've not found any that compare.
            Mine came from the local brocante, and I'm guessing that its former owner was as frustrated with it as I.  It's petite enough to be cute without redemptive effectiveness.  Try to crush more than two cloves of garlic, and you'll have the contents threatening to escape with each push of the pestle.  It really ought to be condemned to the shelf of the tourists' shop from which it evidently sprung.
So, as I can't manage a trip through Italy right now—much as I'd love to—how could I procure the fated object of my desire?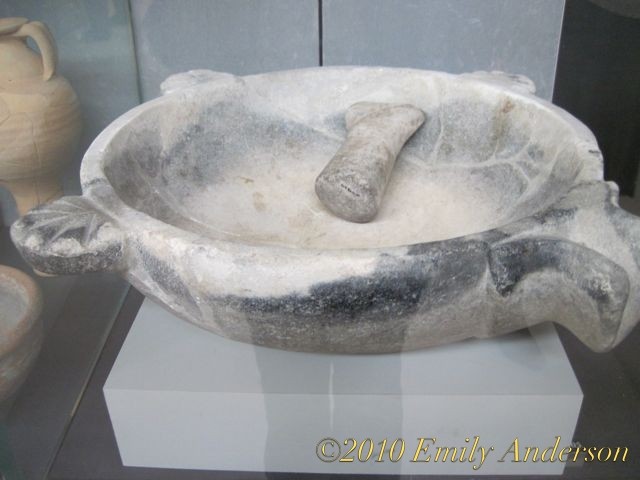 The answer came as an inspiration a few days after a visit to the Antiquities Museum of Arles.  That's where I encountered a 2nd century Roman artifact that brought it all together for me.  By its shape, you can see that it could serve as a hefty mixing bowl.  And considering the kinds of meals they were cooking in those days, pistou and aïoli for a crowd would certainly feel right at home in those generous accommodations.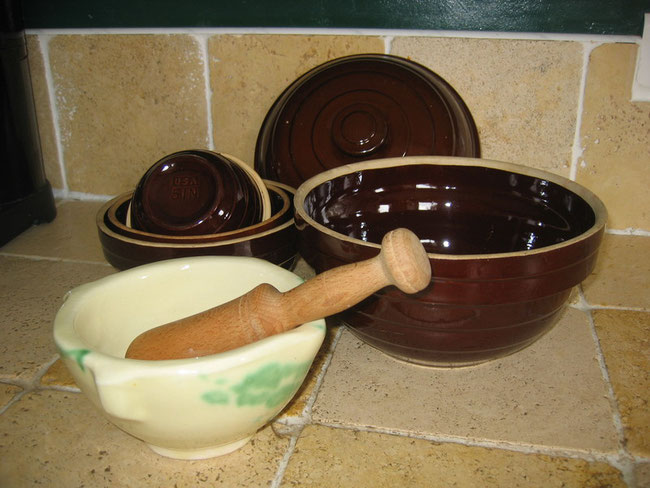 They reminded me of a wonderful set of stoneware bowls that I brought over from my grandmother's kitchenware.  They'd been tucked away for several years—why would I want to use this heavy stuff when there's Tupperwhat?  Now I know why!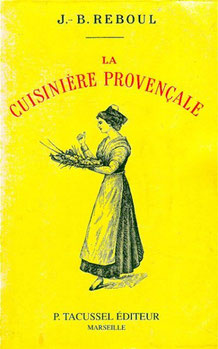 Which brings up another treasure I'd tucked away for too long, J.B. Raboul's la Cuisinière Provençale, the 27th edition of Tacussel publisher's 1897 culinary classic, and purchased during my early enthusiasm for absorbing the French language and culture.  Hopeful visions of perfecting the elusive grammar are long gone, but appreciation for my environment remains.
            Not that I intend to recreate "recipes for the servantless cook."  Marvelous as Julia Child's fundamentals of French cooking are, I prefer the down-home traditions of ‹‹Qu'on va manger?›› 
This land where I dwell has hosted hungry people for at least 3500 years, and very few of them looked to the king's chef for instruction.  They ate what grew around them in their season, and whatever they raised or caught.  What worked for them will work for us, more or less.   Celto-Ligurian, Etruscan, Greek, Gallo-Roman and all their descendants celebrated the wonders of Provence, and so do I…
Fresh cauliflower is firm and cheap this time of year, and we were the fortunate recipients of lots of leftover shredded cheese from the Chili cook-off at my house this weekend, so I'll start with a Cauliflower Gratin.
283.  Sauce Béchamel  makes 675ml
Melt in saucepan:
            60 ml ( ¼ C) butter
Whisk in:
            60 g ( ¼ C) flour
Gradually stir in:
            675 ml (3 C) hot milk
Simmer gently; meanwhile, heat in small skillet:
            1 T butter
            1 finely-chopped onion
            1 finely-chopped carrot
            [about 2 T chopped ham]
This is when I cooked the cauliflower—see recipe below.
Add contents of skillet to the white sauce with a bouquet garni:  generally a stalk of thyme, parsley, celery and a bay leaf.
Season with:  grated nutmeg, S & P.
Simmer gently for 30-40 minutes; strain.  (I used a food mill to retain the best bits, and remove the stalks.)
683.  Choux-fleurs au Gratin  serves 8
Break a head of cauliflower into floweretttes, and cook in salted water until al dente.  (I steamed it in the microwave, on high power for about 20 minutes.)  Drain; rinse in cold water to stop cooking.
Prepare béchamel sauce; stir in:
            2-3 egg yolks
            125 g ( ½ C) grated cheese
Spread about 1 C sauce in a buttered 2 litre casserole.
Add the cooked, drained cauliflower; top with remaining sauce.
Sprinkle with a mixture of:
            60 g ( ¼ C) grated cheese
            60 g ( ¼ C) breadcrumbs
Dot with butter; Bake 200°C (400°F) until golden, about 10 minutes. 
Serve hot.  I served this with BBQ'd chicken and roasted garlic potatoes.
Dinner was puréed cauliflower gratin with enough milk added to create a beautiful bisque. For lunch the next day, I blended the remaining 3 C soup with 3 egg yolks, added about 125 g ( ½ - 1 C) shredded cheese, and then folded in 6 stiffly-beaten egg whites (remember the 3 lonely egg whites from yesterday's gratin?)  That was spooned into a buttered and breadcrumb-coated deep baking dish, and baked into a marvelous soufflé in a preheated 220°C (450°F) oven for 45 minutes.
No more leftovers.  No photos, either.  It all looked so good, I forgot all about the camera.
[More culinary delights here.]
La Cuisinière Provençale
by
AprylZA
View other
Cuisine Aprons