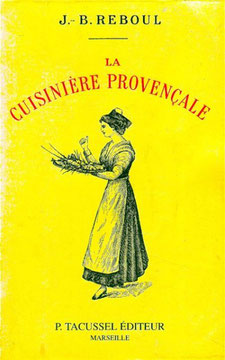 We're continuing to explore the delights of J B Reboul's la Cuisinière Provençale, although some of these recipes will have to wait until I have access to truffles.  They don't fit in the budget right now, and I've not yet managed to get the dogs to sniff them out for me.

Not for want of trying, and with fair success at locating where the sanglier (wild pigs) have already been happily feasting.  Alas, until I take an offensive stance against these ravenous beasts, truffles remain unavailable, and what with spring coming upon us, I'm forced to explore other culinary suggestions.  That gives me roughly seven months to plan the wild game menus, train the dogs to sniff out the black gold, and summon the wherewithall to attempt serving pied-pacquets.
Sunday lunch was quite simple, so long as I had the timing worked out.  It  took a well-regimented two hours, with very little work in between the cooking.  I'm proud to say that the saffron was harvested from my garden this fall.  I purchased 10 bulbs from the market in Aix (Place Richlème), planted them in August, and they were blooming mid-September.  It's gorgeous stuff!

Clean and tie up a whole roasting chicken, generally about 2-½ kg (5 lbs.), and place it in a large casserole with:

1 peeled, whole onion poked with 2 whole cloves
2 topped carrots
1 stalk celery
2 peeled, whole cloves garlic
A bouquet garni: a stalk of thyme, parsley, a bay leaf
250 ml white wine
1 l bouillon or water

Cover, and cook chicken until tender, about 1-½ hrs at 180°C (350°F); Strain, reserving liquid.  Return chicken to oven, uncovered, for 15 minutes to crisp the skin.
Meanwhile, melt in cooking pot:  2 T lard or butter
Add and sauté briefly:  1 finely-chopped onion
Stir in:  250 g (1 C) long-grain rice

Mix well to coat all grains, and then gradually stir in: 
500 ml (2 C) hot broth

Season with S & P, nutmeg and a generous pinch of saffron
Cover, and simmer gently until tender, about 20 minutes.

Meanwhile, in a saucepan, melt:  2 T butter
Stir in, without browning:  1 T flour
Blend in remaining 500 ml (2 C) hot broth
Let simmer while rice cooks; test seasoning.

[While everything else was cooking, I sliced the cooked carrots and reheated them to serve with the meal.

When you're ready to serve, work into the gravy:

2 egg yolks
Juice of 1 lemon
Pinch saffron

Be sure to stir a couple of spoonfuls hot gravy into the egg yolks, and not the egg yolks directly into the gravy.  In case you do get careless, strain the curdled mixture, and try again with fresh egg yolks and lemon.

This went well with a lovely fresh, crisp and slightly fruity rosé Varoise.
La Cuisinière Provençale
by
AprylZA
View other
Cuisine Aprons