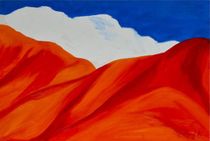 Every painter has his favorite place to paint when the sun shines, and so I've accompanied Jacques Letrosne's studio group several times to this spot.  It's east of Aix-en-Provence, beyond le Tholonet, on the southern side of Monte Sainte Victoire.  The red soil creates a bold contrast to the pale limestone mountain, and the constantly changing light and atmosphere of the region never fails to provide new impressions.
This example was inspired by my first visit to les Roques Hautes, and all the memories that came with my first 6 weeks in Aix.  That visit was to a family picnic hosted by the AAGP (Anglo-American Group of Provence).  Everyone was very welcoming, but we were up against some very stiff competition:  the notorious Mistral wind was completely sabotaging the day.  Eventually, the Ste Victoire National Park patrol had to evacuate the area for the risk of fire, and so my opportunity to connect was cut short.
Where's the wonder and beauty of Provence when you're left alone with a three- and five-year old who were perfectly happy at home in their little community in Dresden?  Like most expatriate wives, hubby would drive off to his new adventure, while I got to work at establishing a new home.
I was quite good at it, mind you.  We'd changed our address 12 times in as many years, so this move was to be no different…except that, this time, everything was different:  small children need a sense of stability (they weren't babies anymore, and strongly sensed the shift from Germany to France), I didn't speak French, I didn't have a car, our neighborhood houses were separated by enormous hedges, and as soon as school let out in the 3 weeks after we arrived, there was a mass vacation exodus.  I never before felt so lonely or alone.
Since then, I've experienced the view from the top of la Sainte Victoire many times, and I know what it takes to get there.  The best views are reserved for those who persevere…
Those at the top of the mountain...
by
AprylZA
Make
custom t-shirts
on zazzle
Monte Sainte Victoire from Roques Hautes
by
AprylZA
Create a
customizable travel mug
at zazzle
Those at the top of the mountain didn't fall there
by
AprylZA
Create a
personalized note card
at zazzle
And a smaller mug, so you can be inspired in other ways…
Monte Sainte Victoire from Roques Hautes
by
AprylZA
Browse more
Impressionist Mugs