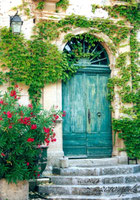 That quote is attributed to the famous American poet, Robert Frost, although I'm not sure of the context.  Who opened the door, and were there smiles, hugs and greetings?
Doors are fascinating objects.  They can be shut tight, or standing wide open for just anyone to waltz through.  This one was closed to us, until someone inside realized that there were 5 artists positioned comfortably around their garden.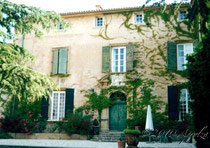 This was late June, 2005, and I was on a pleine aire painting week with Jacques Letrosne.  His friend, Richard, left home for a place of his own—the pigeonerie of his parents' bastide:  the winery of Château le Seuil in Puyricard.  He invited us to set up wherever we wanted around the property, and what more inviting subject than the grand façade?
The proprietress was thoroughly welcoming, even to inviting us in to see Richard's paintings.  Those enormous tableaux looked stunning in the centuries' old interior!  It was a delightful end to a day filled with the wonder of discovery.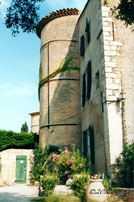 LORD, today you have made us known to friends we didn't know, And You have given us seats in homes which are not our own. You have brought the distant near, and made a brother of a stranger. Thank-You, Lord; Your love be praised.
An Open Door Policy
by
AprylZA
Browse
Château Keychains
la Porte de Château du Seuil
by
AprylZA
Browse other
Château Postcards