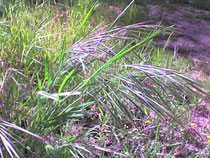 If I'd suspected that L'Egilope ovale was such a menace to my dogs, then I would've mowed it down sooner.  I love the wild patches that come to life in the spring.  They're filled with color, and an important part of the natural food chain…but it's never that simple, is it?
It was the last day of kids' camp at our house, and our concerns that Tina & Turner wouldn't tolerate 75 children were long gone.

 

These gentle 6-year old Golden Retrievers loved the children as much as they were loved.

 

That's why everything came to a halt when we noticed that Turner's nose was bleeding, and he was sneezing violently.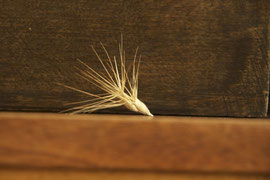 Thankfully, a dog-owning parent identified the situation.  Turner must've gotten a particular grass up his nostril.  L'Egilope ovale in French, it has elongated, barbed needles, and grows in arid regions.  (Aegilops ovata in Latin.  Wikipedia tells me this is known as 'goat grass' in California.  I need to have someone spell the common Provençal name for me.   Whenever I'd mention it, it led to recounted tales of trips to the vet.)  
There's not too much to tell in our situation, other than how grateful I am that I didn't have to negotiate a heavily sedated 35-kg dog by myself.  The operation only took a few minutes:  the dog must be unconscious for the vet to go into the nostril.  Because of the barbed grass, if left untreated, it will work itself deeper into the poor beast's head, eventually to the brain.  So, 20-minutes, and €80 later, the vet advised me to take Turner home to rest.  "Keep him calm," was the advice.
We returned to the family party of about 150 campers and their parents, and a round of applause and praise to the conquering hero.  Turner spent a quiet afternoon drifting from one picnic blanket to another.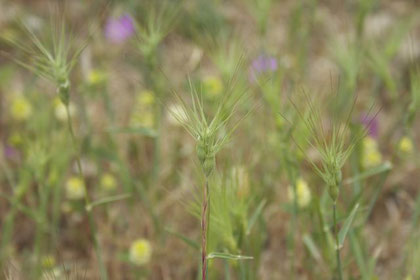 And so, this lovely, tall grass must go!  It's still green, and the seed heads are well attached, so they don't pose a problem just yet.  If you have any question as to the dangers of your local variety, one touch is enough to prove if there are barbs or not.  The danger to animals occurs when the grass is dry, and the grains detatch.  Therefore, you must rake after you mow, to curtail the spread, and to gather up the offending culprits.  Or you can advise your pet to keep away from the grass.  (Good luck with that.)
These paintings are entirely harmless:
0071-le champ de lavande
by
AprylZA
Browse the other
art
at zazzle
0114-blé dans la lavande
by
AprylZA
Browse more
artwork
on zazzle.com