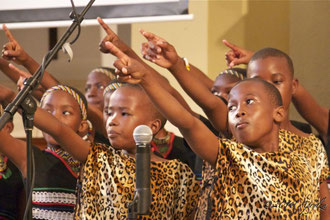 Here's an organization that you need to know about.
This is one of the touring groups of the African Children's Choir.  These children are responsible for raising awareness and support for the schools throughout Africa.  
It's hard to believe by watching these beautiful, healthy and energetic children, that they are either orphaned or desperately impoverished.  We are witness to the resilience that love and security can bring to a life without hope.  The Christ-centered environment that Music for Life supports creates fertile soil for miraculous, transformative growth.  Be witness to grace breaking the cycle of poverty!
My words fall far short of the bigger picture.  You can learn more here.
Be sure to follow the links for how you can get involved; including hosting a performance at your local venue.  Here's a glimpse at last Sunday night in ICCP.
Psalm 57
Have mercy on me, O God, have mercy on me,
for in You my soul takes refuge.
I will take refuge in the shadow of your wings until the disaster has passed.
I cry out to God Most High, to God, who fulfills His purpose for me.
He sends from heaven and saves me, rebuking those who hotly pursue me;
God sends His love and His faithfulness.
I am in the midst of lions; I lie among ravenous beasts–men whose teeth are spears and arrows, whose tongues are sharp swords.
Be exalted, O God, above the heavens; let Your glory be all over the earth.
They spread a net for my feet–I was bowed down in distress.
They dug a pit in my path–but they have fallen into it themselves.
My heart is steadfast, O God, my heart is steadfast;
I will sing and make music.  Awake, my soul!
Awake, harp and lyre!  I will awaken the dawn.
I will praise You, O Lord, among the nations; 
I will sing of You among the peoples. 
For great is Your love, reaching to the heavens;
Your faithfulness reaches to the skies.
Be exalted, O God, above the heavens;
let Your glory be over all the earth.