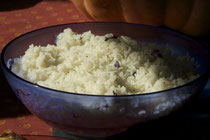 Indian food was one of the best discoveries of three delightful years in Britain.  I tried every recipe I could get my hands on, and thanks to Pat Chapman, there was no shortage.
I suppose that's why 2-year old Sarah misunderstood that Nursery Rhyme about the muffin man.  If there was a Curry Lane, you can bet it would be filled with delicious neighbors!
Here are 2 not terribly authentic curry recipes.  They have the redeeming value of being extremely simple, and very tasty.  I include Pat Chapman's curry powder recipe, because if you can get your hands on the fresh spices, you can change the world!
Gary Rhodes' Short-Cut Chicken Curry  for 4-6 servings
Fry until lightly golden:
 3 T oil
1 crushed clove garlic
 2 chopped onions
Add & stir-fry: 1 T curry powder
Season with S & P; and then add to skillet:
 450 g diced chicken breast
Stir-fry until completely sealed on all sides.  Add:
 400 g evaporated milk
Heat to simmer; cook gently for about 20 minutes, stirring occasionally to prevent sticking.  Season to taste.
Garnish with chopped fresh coriander.
Serve with mango chutney & lime pickles, rice or naan bread.
Sweet & Spicy Curry for 2
Sauté:
 1 T oil
1 t mustard seed
 1 chopped onion
½ t salt
 1 crushed clove garlic
[2 t grated fresh ginger]
Whisk together; add to sauté:
 juice of 1/2 lemon
chili powder to taste
 2 T flour
1 bay leaf
 2 T curry powder  
Cook gently about one minute; then stir in:
 300 g mixed vegetables*
 2 T raisins
 1 chopped apple**
1 T brown sugar
 ¼ C chopped nuts
1 C stock or tomato juice
 [1/4 C grated coconut]
Lower heat, cover tightly and cook for about 20 minutes.  
Season to taste with S & P.  Discard bay leaf.  
Serve with rice, chutney and yogurt.
*chopped tomato & hard-boiled egg are a good combination.
** instead of chopped apple, you could substitute ¼ C chutney or jam; if you're adding coconut, a chopped banana would be an exotic touch.
Pat Chapman's Curry Powder
 The master of curries, his ancestry inspired an interest in the Raj.  Look for any of his cookbooks.  They're all filled with delicious recipes.  His Curry Club is also a great source of hard-to-find ingredients. 
Combine in dry wok or frying pan:
 10 g (2 t) fennel seed
10 g (2 t) whole cloves
 10 g (2" piece) cinnamon stick
3 g (4-5) bay leaves
Dry-roast over medium heat for a minute or so, until a wonderful aroma is released.  Let cool; then grind very fine.  
Mix in:
 80 g (5 T) ground coriander
15 g (1 T) paprika
35 g (2 T) ground white cumin
10 g (2 t) turmeric
30 g (2 T) garam masala
7 g (1-1/2 t) chili powder
Store in an airtight container.  Use within 6 months.