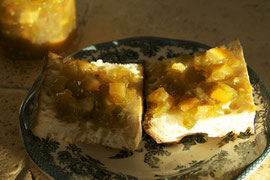 Green Tomato & Orange Marmalade
This comes from Oded Schwartz's delicious book, Preserving
Slice and remove pips from :  
4 large sweet oranges
Squeeze & remove pips from:  2 lemons
Tie all pips (Americans call them 'seeds') in a piece of muslin.
Finely-chop oranges with:
1 kg green tomatoes
Combine in preserving pan with pips (okay, seeds) and:
750 ml water
Bring to boil, reduce heat and simmer until orange peel is soft, about 45 minutes.  
Add lemon juice and:  
1 kg preserving or granulated sugar
Stir until sugar is dissolved.
Bring to boil; simmer over medium heat, strirring occasionally, for about 30 minutes, or until it is thick enough for a wooden spoon drawn through the center to leave a clear channel.
Remove the pan from the heat, and leave jam to settle for a few minutes.  
Skim if necessary, then remove the muslin bag and stir in: 
 1½ T roughly crushed coriander seed
Ladle into hot sterilized jars, then seal.
Still life with Kumquats
by
AprylZA
Post cards
created online using zazzle