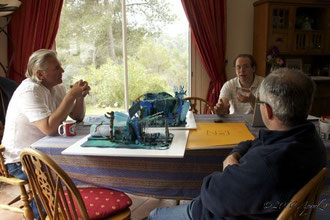 It's that time of year again, to gear up for our 5th year at ICCP Kid's' Camp! We brainstormed with thunder and lightning in January, and agreed upon an underwater theme for 2010. More brainstorming and envisioning as AIXpedition Atlantis surfaced…followed by searching Biblical relevance in our search for God…the book of Jonah, of course.
Did you ever notice the similarity between Plato's allegory of the city of sin (Atlantis) to Nineveh, and our modern society? Did you ever imagine that you could share that with 80 international children and their parents?
…Or that organized teams of helpers from the USA will donate two weeks of their lives to be involved? God is good!
As craft boss, my job began by assembling the overall theme, the daily theme, and planning with the daily lesson, assorted supplies, and a 45-minute period for 2 groups of 40 primary school children.
Day 1. Welcome! (we get to know each other)
The teaching: God loves you! God wants to show His love and mercy to Nineveh, a people who didn't deserve mercy or seek Him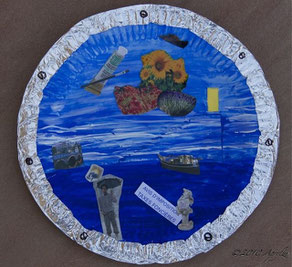 The craft: a porthole:  the importance of keeping God in sight
Have the children think about, "God is love:  what's love?  what's not?  What do you love?  What makes you forget about God's love for you?"
Gather pictures, or draw your own, reminding you what's best, and arrange your collage in a way so that the worst stuff sinks to the bottom of the sea.
Remember that, "There's no fear in love, because perfect love drives out fear." 1 John 4:18
Supplies: preferably 'brass' or silver paper plates, or white paper plate & aluminum foil for the rim
kids' magazines, photos, images
glue, scissors, paper, pens, paint, colored craft paper
- Distribute supplies amongst the tables
- Help the kids to focus on loves and fears
- Encourage them to be fearless in their designs
- Keep the glue flowing
- Secure finished work from blowing away (clothes line?)
What I got out of Jonah, chapter 1, in relation to the craft:
God told Jonah to wake up the people of Nineveh. They created a great city, and had forgotten all about the God who created them. Jonah didn't want to get involved, so he headed the other way.
            God disciplines those He loves, so there were cataclysmic consequences for Jonah's disobedience that affected everyone involved. This was a storm to strike fear into the hearts of seasoned sailors. Which god must be appeased?
            "Tell us, who is responsible for making all this trouble for us? What do you do? Where did you come from? What is your country? From what people are you?" How would you answer these questions? Would they explain the situation you're in right now?
            What have you done? Are you headed in the right direction? Is that toward God or away from Him? Where is 'overboard' for you? Are you willing to let consequences sweep you into His care?
            It may not look like what you'd expect: "But the LORD provided a great fish to swallow Jonah…" What's the most unlikely thing that could happen to you right now?