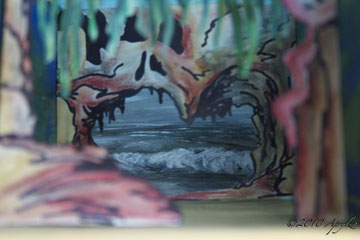 ICCP Kids' Camp crafts continued…
Day 2. Team Colors (we wear our T-shirts for the camp photo)
The teaching: God can be trusted: Jonah wrestled with trusting that God knew what He was doing.
The project: A shadowbox
Have the children think about: What's it like to be caught in the belly of a whale…or some place you'd rather not be? What do you think about when there's no way out?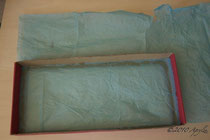 The supplies: shoebox, popsicle sticks, paint, tissue paper, stiff construction paper, cardboard, pens
glue, scissors, a few of rulers
- pre-prep: cut center from box lid and 1 side of box side with an Xacto knife
- Distribute supplies: have a separate painting station, a drawing station & glue at each table
- Explain how-to, showing sample cut outs
- Assistants help cut tissue paper to fit box lid & glue at a separate station
- Other assistants direct modeling & assembly
- Provide a safe place to store the projects until it's time to go home.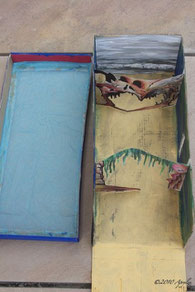 What I learned from Jonah chapter 2:
Jonah's heartfelt prayer of repentance is comparable to Psalms 69, and countless other cries of distress uttered throughout the ages.
            It usually takes a crisis to realize one's personal incompetence.
            What's my prayer?
"You need chaos in your soul to give birth to a dancing star." Nietsche