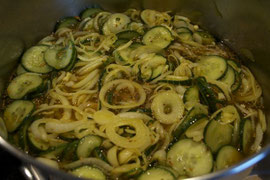 This is an old, old recipe that you can find in any of my collection of assorted local church, fire hall and farm women's guild cookbooks.  The Pennsylvania Dutch know what fills you up and gets you moving.  C'mon, we've got work to do!
First, be sure to eat a well-balanced meal of 7 sweets and 7 sours.  I suppose this is a 2-in-1, being both sweet and sour in the same mouthful.  They're amazing on a burger, but also tasty as advertised: on bread & butter.
Bread & Butter Pickle
Combine:
 1,5 kg (3 lbs) sliced cucumbers
1/4 C salt
 1 kg (2 lbs) sliced onions
Let drain at least 3hrs, preferably overnight.
Rinse well and drain.  
If they taste too salty, cover with ice water and let stand for 10 minutes; rinse then drain.
Meanwhile, bring to the boil: 
 1 l (4 C) white vinegar 
2 T mustard seed
1 kg (2 lbs) sugar
1 T anise or fennel seed
1 T ground turmeric
1/2 t ground cloves
Boil for 10 minutes.  
Add the drained cucumbers and onions, return to the boil; remove from heat and pack immediately into hot, sterilized jars.
I follow the sun!
by
AprylZA
Make
aprons
on zazzle