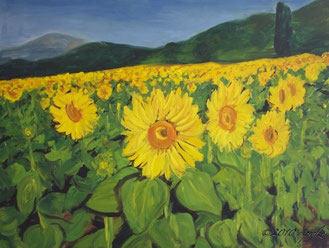 "Keep your face to the sunshine and you cannot see the shadow.  It's what sunflowers do."  Helen Keller
This is the story of a little girl who moved house a lot. She was only 5 years old, and already packed and unpacked her toys 4 times (with a bit of help). Now Daddy's job changed again, and there was more talk of moving.
This time would be different. Emily and her sister already spent two whole years in Aix-en-Provence, and Mom liked how her girls were settled and happy. They were part of a community of all ages and nationalities, and Dad could come and go as his work compelled him. Now all they needed was a house of their own, with a garden for Emily's fresh peas.
I Follow the Sun!
by
AprylZA
Browse more
Impressionist T-Shirts
Time passed. The family moved to the countryside, and started to make the house their home. It was a lot of work! The land was covered in pine trees, and the soil was hard and dry.
"Mom, when can we plant our garden?"
"What garden, Emily dear? We need a place for the sun to shine, and the rain to fall. Nothing will grow if we don't prepare the soil. We will, but it will take time."
I follow the sun!
by
AprylZA
Design a
personalized magnet
with Zazzle
Time passed, and still no garden. Spring was turning to summer, and still only pine trees. Emily was sad, even a little angry, trying her best to be patient, although she knew that Mom didn't have the time or space to plant a garden.
What she didn't know was that when she wished out loud for sunflowers, her Mom asked God about it, and that God listens carefully to children. He'd heard Emily's prayer, and got to work on it straightaway.
Time passed, and soon the weather was nice enough walk home from school. One day, Mom pointed to the field below their house, "Emily, do you know what the farmer planted here?"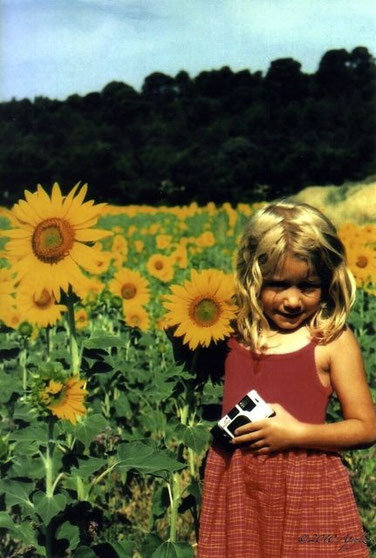 A little more time passed before Emily could see that it was true.  
It wasn't one or two sunflowers, or a lovely row of them. It was an enormous field covered from one end to another in bright, smiling, blooming sunflowers!
"Bring me then the plant that points those bright Lucidites swirling up from the earth, and life itself exhaling that central breath! Bring me the sunflower crazed with the love of light." Eugenio Montale
[More Sunflower paintings here.]
The Sunflower Field
by
AprylZA
Shop for
artwork
available on Zazzle
0038-le champ des Tournelsols à la Ste Victoire
by
AprylZA
See all the other
art
at zazzle.com